In addition to their endearing characteristics, Golden Retrievers are renowned for their gorgeous and dense coats. They constantly shed fur, but it is most obvious in the fall and spring. Maintaining a silky, lustrous coat and reducing shedding are two of your primary responsibilities as a Golden owner. Brushing your dog's coat at least once a week is a great place to start when it comes to maintenance. You might be thinking if any old brush will do.
Some dog brushes are great for your Goldie's double coat, while others can be harmful. Don't worry; that's why this guide was written. Read on to learn about the simple slickers to the raking tools that made our list of the 13 finest dog brushes for Golden Retrievers based on our research and experience. We have also provided an overview of the several dog brushes that are suitable for Goldies, along with some advice on how to select the best one for your dog's coat and shedding needs.
Chris Christensen Big G Dog Slicker Brush – Best Overall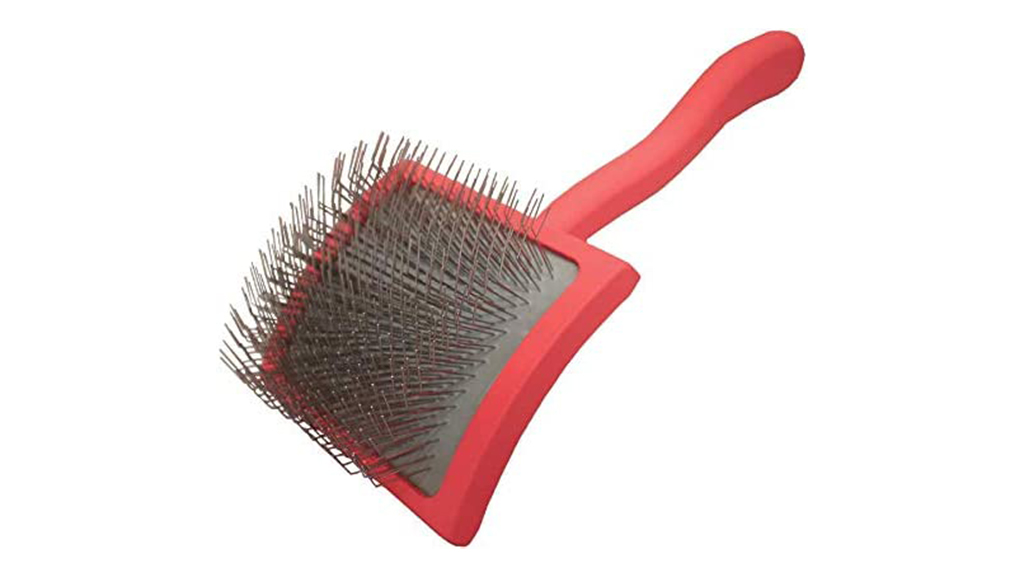 We decided that the Chris Christen slicker brush was the best all-around dog brush for Golden Retrievers. This ergonomic red grooming tool features a tilted base and wire pins that are evenly placed. The brush's ability to gather up practically all of the shed fur from the undercoat with only a few glides was even more impressive. It's mild enough for everyday use and effective enough to get rid of mats and tangles without irritating your dog's skin.
This makes it an essential item for pet owners in search of the best method for maintaining their dog's fur. The 'GROOMGRIP' design by the manufacturer prevents the brush from slipping out of your hand because it has a rubber coating along the handle. We tested the big brush, but there are also medium and tiny options if your Golden Retriever is on the smaller side.
Poodles & Doodles Brush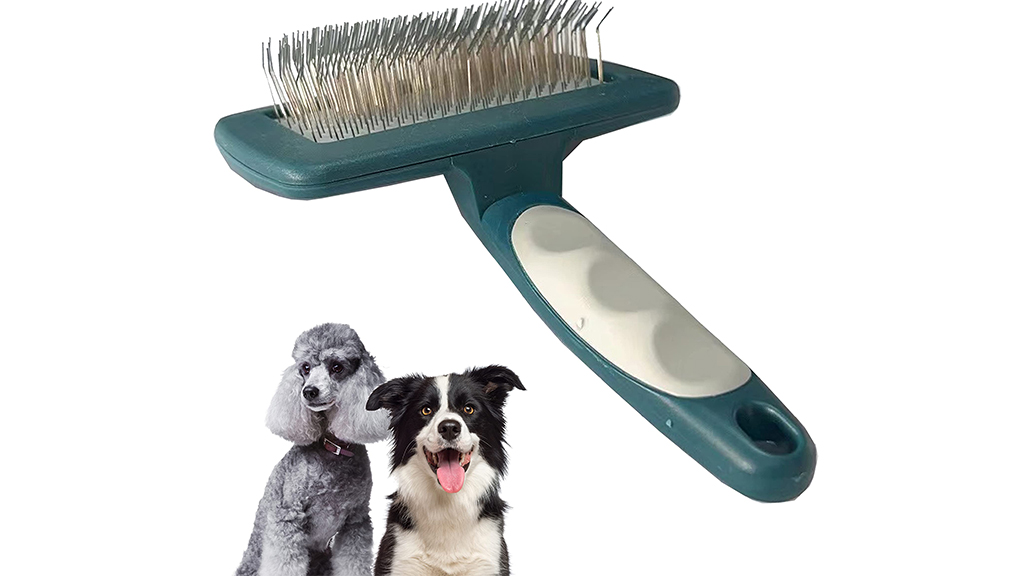 The long, bent pins of the Poodoodle slicker brush are designed to reach deep into your dog's dense undercoat and pull out any stray hairs. We noticed that it easily combed through the Golden's coat and was able to undo even the most stubborn knots in her hair without causing her any discomfort. To effectively care for your dog's hair, you can use the base's air-cushioned pad, which is home to tightly packed pins.
The soothing massage action of the cushioned pad throughout the grooming procedure will help your dog relax and enjoy being in your company. This purple pet brush is ideal for all Goldens thanks to its ergonomic shape, which follows the curves of the body and provides a secure grasp for your arm.
Golden Retriever Slicker Brush
Ryan's Paw Brothers Extra Long Pin Slicker Brush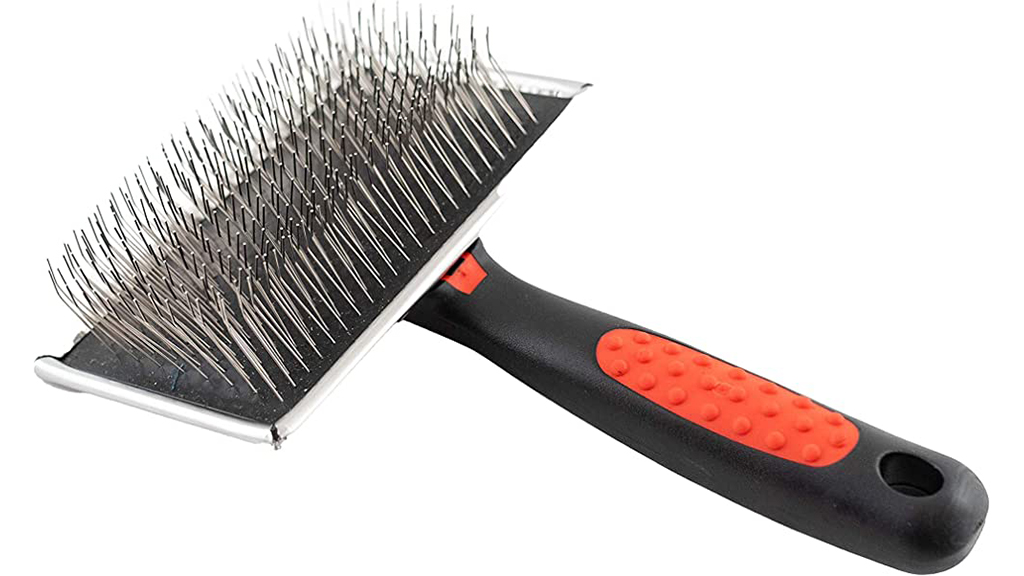 You can bet on the longevity of this slicker brush from Paw Brothers because it is constructed from high-quality materials. The brush's long, well spaced pins and ergonomic metal handle are its main selling qualities. Stainless steel pins are roomy and easy to maneuver through even a Golden Retriever's thick coat. With such a comfortable grip, grooming will be a pleasure, too.
The brush's rectangular head is another talking point because it allows for precise control while grooming your dog's coat. You may reach down into your dog's undercoat and untangle any tangles or mats without exerting too much effort. We also observed that the rounded edges kept the pet's fur from being trapped and pulled while we brushed.
YIRU Large Firm Slicker Brush
This brush is worth pausing over if you're seeking for a practical way to care for your Golden Retriever. The curved pins are made to get through your dog's undercoat without scratching their skin. Picking up stray hairs from the coat with these pins is a great way to prevent them from sticking together and becoming tangles in the undercoat. The handle is ergonomically designed with a thumb support so you can keep your thumb in place as you groom. This brush is more than just that, though. The base features a massaging pad that helps you rub your dog's fur while you walk.
GoPets Dematting Comb with 2-Sided Rake – Best for Dematting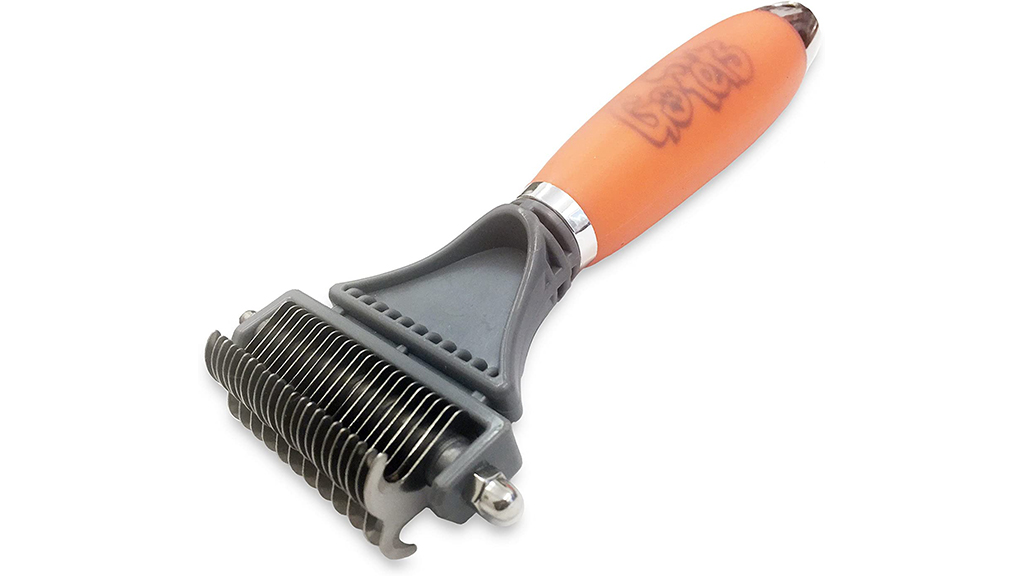 The thick matting, twists, and knots in your dog's coat may be no match for this multipurpose grooming tool. While the tool glides smoothly over the dog's glossy coat, it can catch anything that becomes entangled in the dog's abundant locks. If you have a Golden Retriever, you know how frustrating it can be when their coat gets matted.
You can use the lower deck of this de-matting tool to get rid of knots and tangles in the hair, and the upper deck can be used as a de-shedding tool to aid with a thick coat. The brush's adaptability and wide range of possible applications is a major plus. The soft silicone grip that rests comfortably in the palm of the hand was another element that won us over. By having a firm hold, you may easily glide through the coat and achieve a thorough grooming.
Self-Cleaning Slicker Brush – Best Brush for Golden Retriever Puppies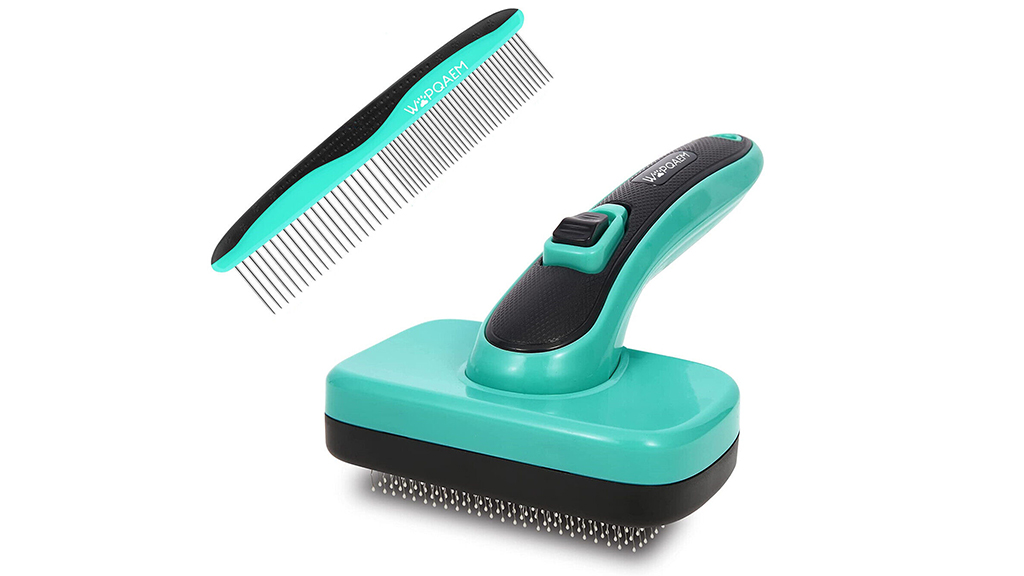 The best brush for golden retrievers puppy is one that is soft on the dog's tender skin and new hair. The dead hair on your puppy may be removed with the help of this aqua-green pin brush, and future mats and tangles can be avoided with regular use.
Safety massage tips cap the long, curved pins, making them gentle on your dog's skin as you groom. This makes the session more fun for your dog and easier for you by increasing his or her blood flow. Moving on to ease of use, the handle of this grooming tool is ergonomically designed to fit the palm of your hand. The self-cleaning functions of this device make keeping it clean as easy as pressing a button.
Golden Retriever Grooming Brush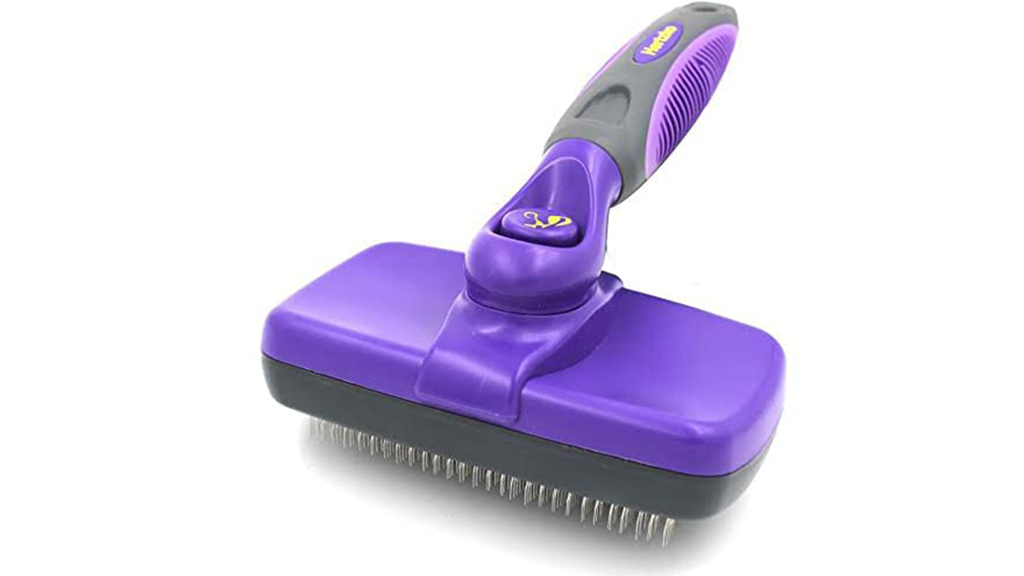 Maxpower Planet Pet Grooming Brush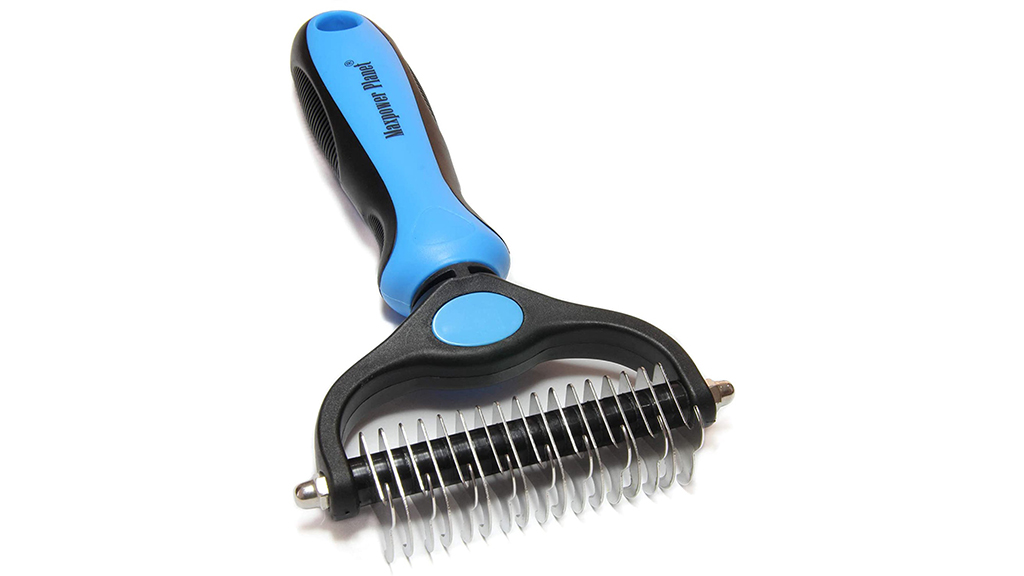 Another entry on our list of the finest dog brushes for Golden Retrievers is this two-sided raking tool.
There are nine teeth on the upper side for de-matting, and seventeen teeth on the lower side for thinning and de-shedding. These rounded, sharp teeth are strong on tangles but easy on your dog's skin and fur. When used properly, they will not harm your skin or create inflammation. The dead hair and anything else stuck in the dog's coat can be easily removed with this instrument.
Maxpower designed this tool with a non-slip rubber grip so the groomer can have firm grasp and complete control while working on the dog's fur. While the unit we tested was black, this tool is available in a wide variety of hues. The size of your Golden Retriever will determine the best brush for him.
Pet Comb Grooming Brush for Large Dogs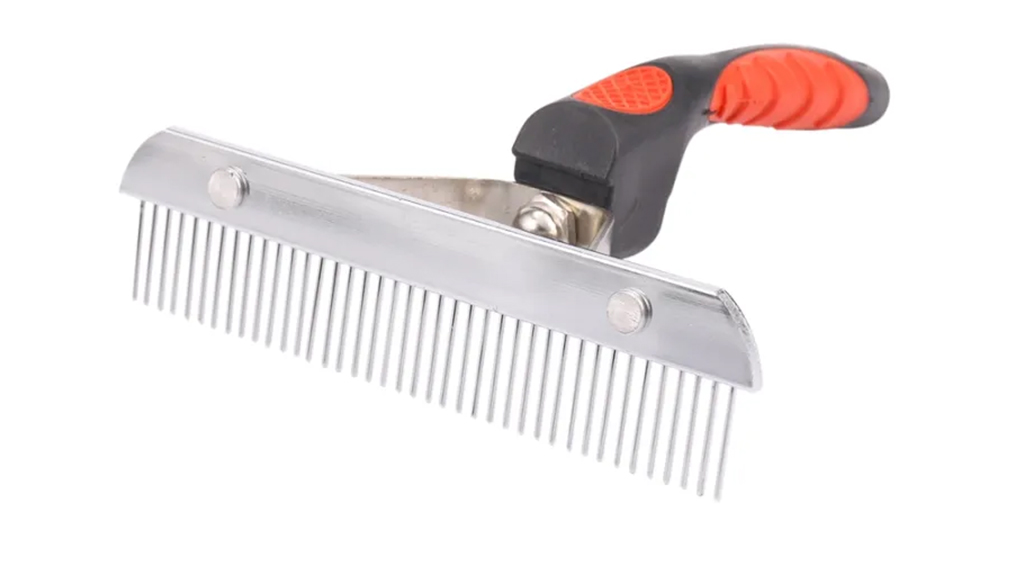 If you have an adult Golden Retriever, you may benefit from a tool that allows you to quickly and easily cover a big area of the dog's coat. The rounded pins and titanium construction of this pet comb for Golden Retrievers make it easy on the dog's fur. The pins can reach far into the thick undercoat, picking up dead fur and releasing tangled hair from between the teeth.
Your dog's hair will be shiny and wavy after being groomed with this tool, and it will be free of the harsh mats that can diminish its appearance. The massaging element of this brush helps your dog relax and enhances their blood flow while you're grooming them. The groomer will have a secure and comfortable grasp on the fur of their pet thanks to the handle's supple material and nonslip design.
Golden Retriever Undercoat Brush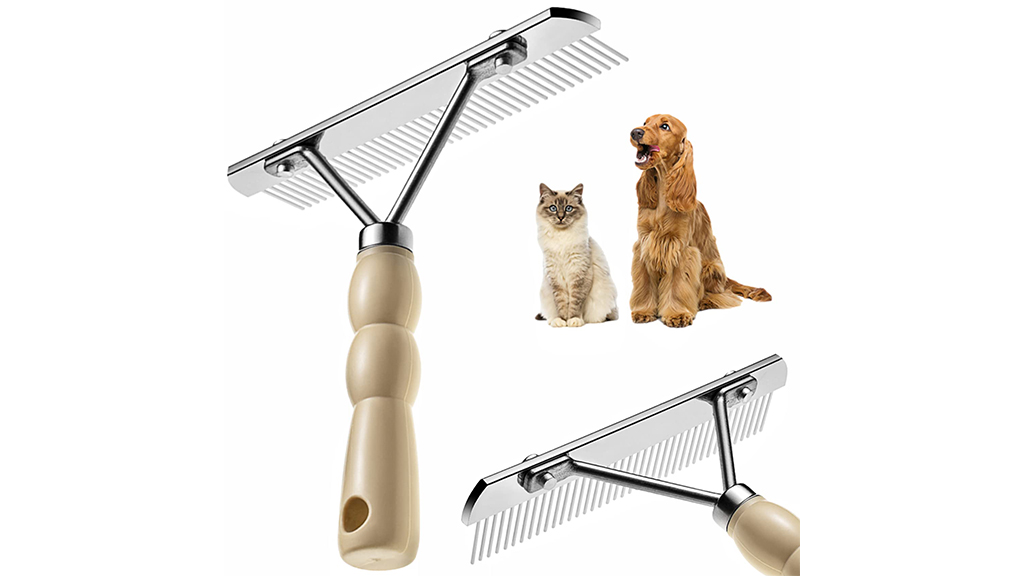 Undercoat Rake for Dogs
This rake brush has two bristles for the price of one. The pins on one side are closely spaced to prevent shedding, while the teeth on the other side are widely spaced for de-matting. With the de-shedding side of this raking tool, you can be sure that no stray dog hairs will make it onto your furniture.
If your Goldie is prone to matting, you can use the brush's large teeth to remove undercoat tangles, twists, and lumps. The outside edges of the teeth are rounded to prevent skin irritation while grooming your beautiful double-coated dog. The brush has a blue, non-slip handle that is comfortable to hold and use on your pet without causing any slippage or irritation.
Rexipets Brush & Comb Dog Grooming Set – Best for Deshedding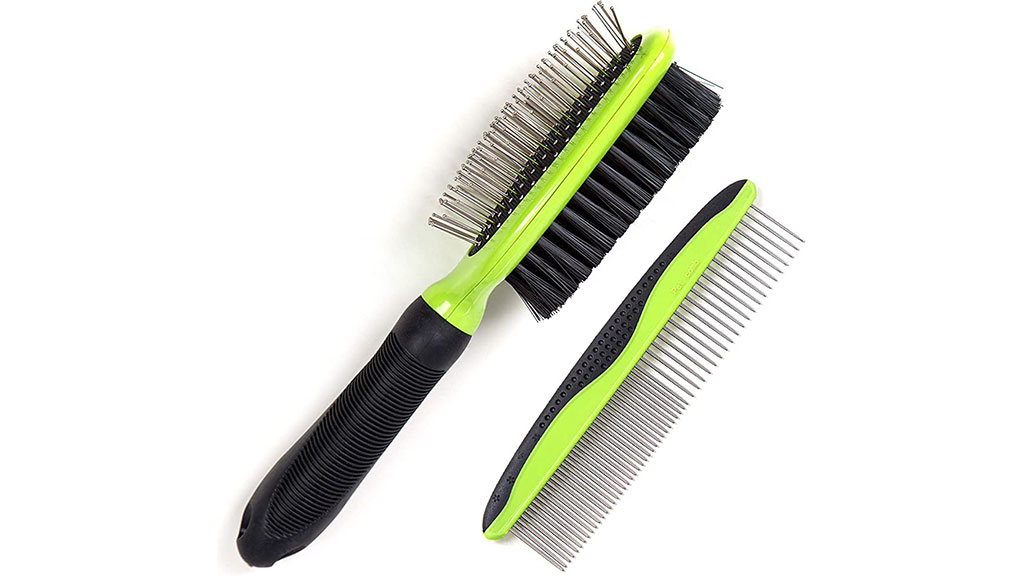 Golden Retriever owners have it the hardest in the fall and spring, when their dogs shed the most. You can get a lot done if you give this Rexipets grooming kit a try during this time.
These high-quality grooming tools are the answer to the problem of excessive hair loss in Goldies, and the kit comes with everything you need. The de-shedding brush you receive is two brushes in one, with a pad of soft bristles on one side and a larger pin brush on the other. Your dog's coat will benefit greatly from the use of the pet brush, as it will remove any loose or dead hair and help to prevent the development of knots and tangles.
The rounded tops of the pins are great for rubbing your dog's coat and spreading its natural oils, which gives it a glossy appearance. After cleaning your dog, you can use the included grooming comb to smooth out any tangles in the fur. The comb's teeth are made of stainless steel. All of the equipment have ergonomic grips so that the groomer doesn't become fatigued while working on the dog's coat.