When adopting a dog, there are numerous supplies you'll need to think about purchasing. You wouldn't want to waste money on dog food just to have it go bad or leak because the container wasn't sturdy enough. Dog food bags are great at keeping food fresh when used alone, but they are notoriously difficult to close and store. This is when having a suitable container for dog food comes in help.
Pests can be avoided and food can be preserved more easily if it is kept in an airtight container while not in use. It's understandable to feel confused among all the available choices. In order to help you select the best dog food storage container, we have collected a list of the top options available.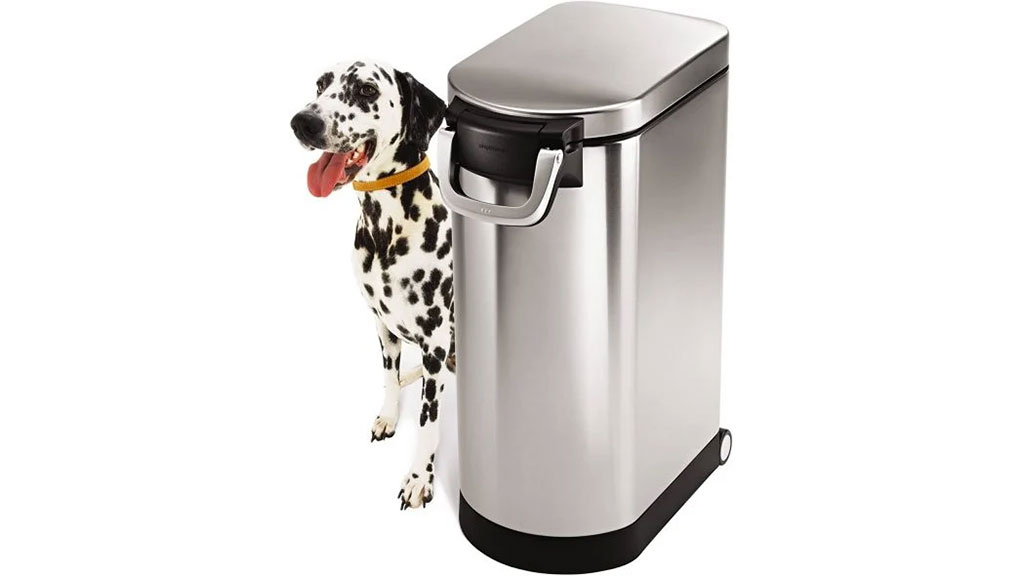 Airtight Dog Food Container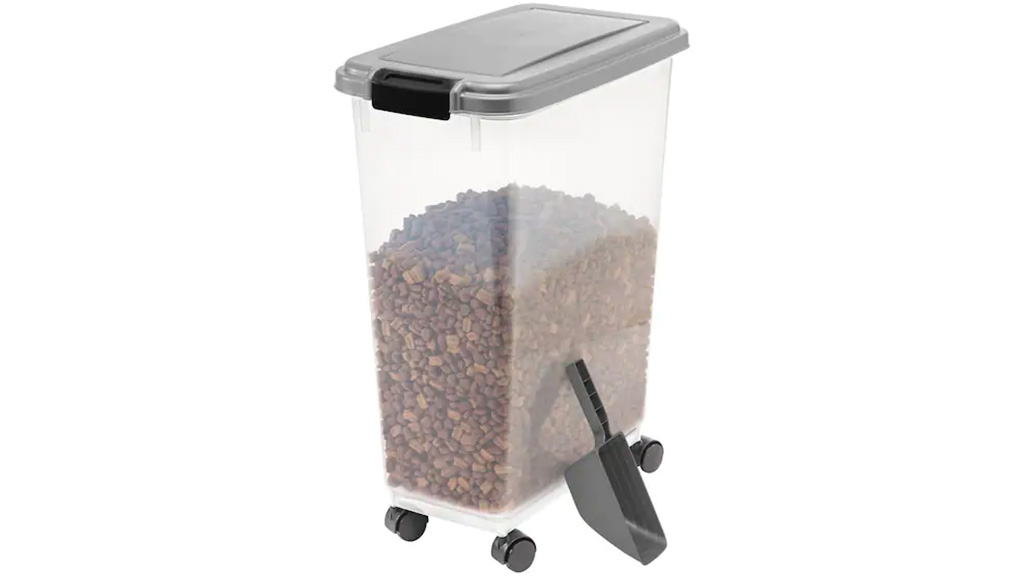 For fresh, pest-free dog food, pet owners need an airtight container. These containers shut out air and moisture to keep your dog's food fresh. Airtight dog food containers range from single-serving to 50-pound containers. Many have handles and wheels for ease portability and are made of robust materials that can survive daily use. An airtight dog food container, whether plastic or fancy, will help keep your pet healthy and happy.
IRIS Airtight Food Storage Container & Scoop Combo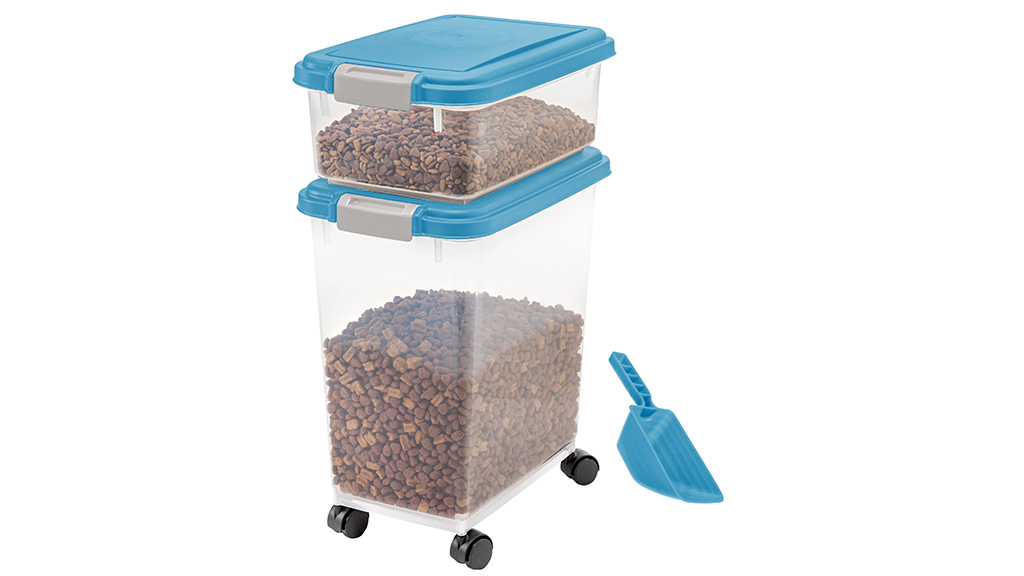 The IRIS Airtight Best Pet Food Storage Container & Scoop Combo is our best choice since it is convenient, space-saving, and has a reliable airtight seal. While the other containers on our list are also airtight, this one stands out thanks to its high-tech features. There is no need for a number of different parts because the latches on the two containers are easy to use and stay attached to the containers even when they are empty. The top of the container may be opened all the way with the lid, making it simple to place in bulky bags of food.
You can select the color scheme that best suits your needs. The scoop included in this container has measurement markings so you can give your dog the correct amount of kibble every time. The spacious entrance facilitates frequent washing and maintenance. The only drawback is that the stacked containers cannot be attached to each other, increasing the risk of their falling over. Two stackable containers, a foam seal, caster wheels, and a rainbow of color options are all pluses.
BUDDEEZ Dog Food Plastic Container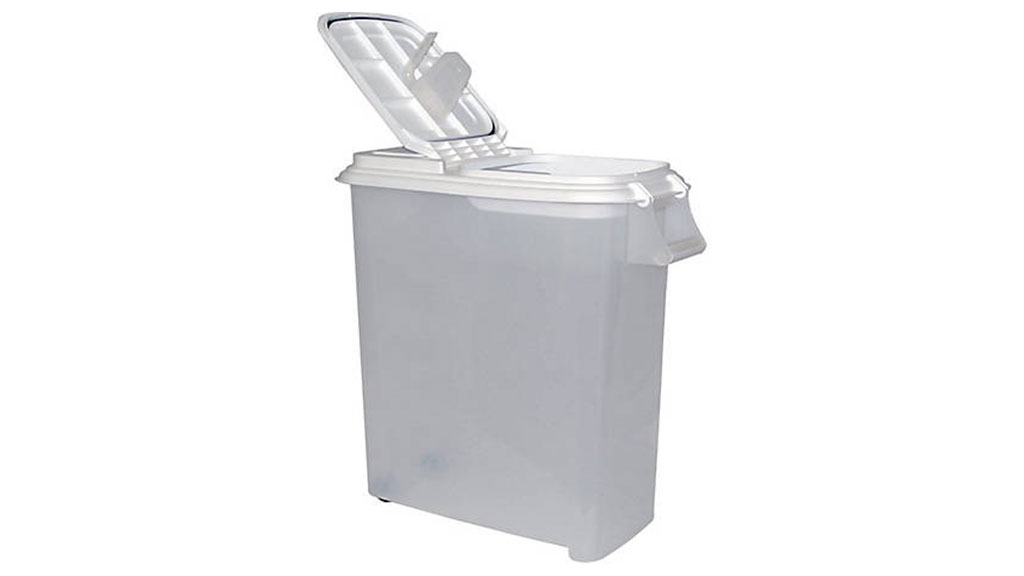 Because you get a high-quality product at a low price with the Buddeez Storage Container, it is among the best dog food containers. Because the bag can remain inside the container, serving is simplified, and the bag's contents can be easily accessed. The top on this model does double duty as a spout for pouring and a scoop for removing the food. The structure and seal work together to keep food fresh and easy to access. However, unlike some of the other options on this list that can hold over 20 pounds of dog food, this one can only hold up to 8. Because of its height and narrow width, this container may be awkward to store under cabinets.
Benefits: Leave your stuff inside, Dual-function lid, Low price
Cons: Limited storage space
Iris Airtight Elevated Storage Feeder with Bowls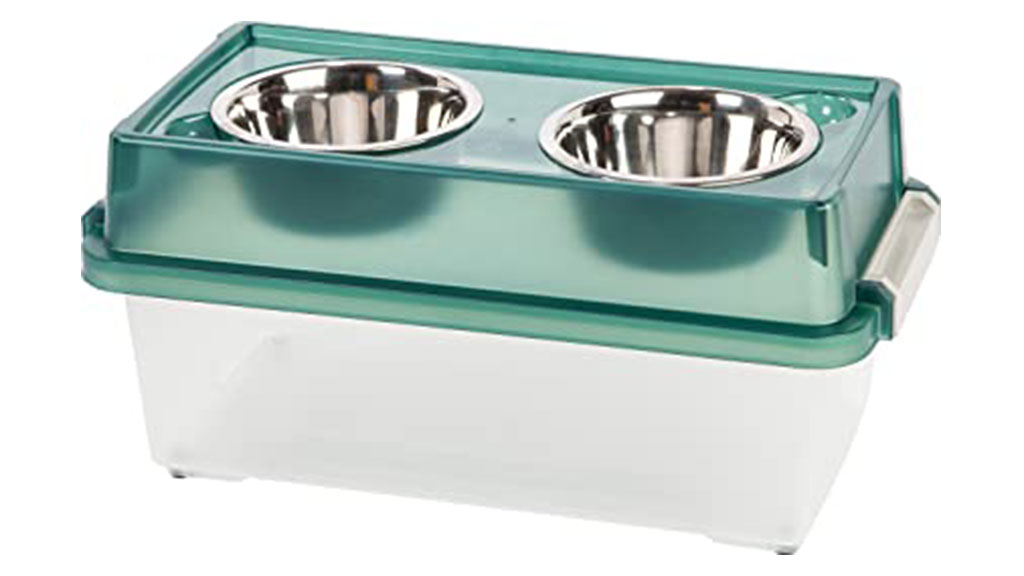 The Iris Airtight Elevated Storage Feeder is a two-for-one deal, since it comes with two stainless steel bowls that fit into slots on top of the container. Choose the perfect color and size for your raised storage feeder. You can put about 18 cups of dry pet food into the smallest container, 46 cups into the middle, and 64 cups into the largest one. The two stainless steel bowls have a combined capacity of four quarts and can be removed and cleaned with ease.
The container's airtight seal and secure snap-on lids make it ideal for long-term storage. Large dogs benefit from eating from an elevated dog bowl because it reduces stress on their neck muscles and facilitates better digestion. However, if your dog tends to be a messy eater, you might not want to feed it over its dog food containers.
Pros: Include that it is great for large dogs, comes with dog food bowls, is available in a variety of sizes and colors, and that the seal prevents water from getting inside.
Cons: Messy eaters should look elsewhere.
Paw Prints 15 lb. Airtight Storage Container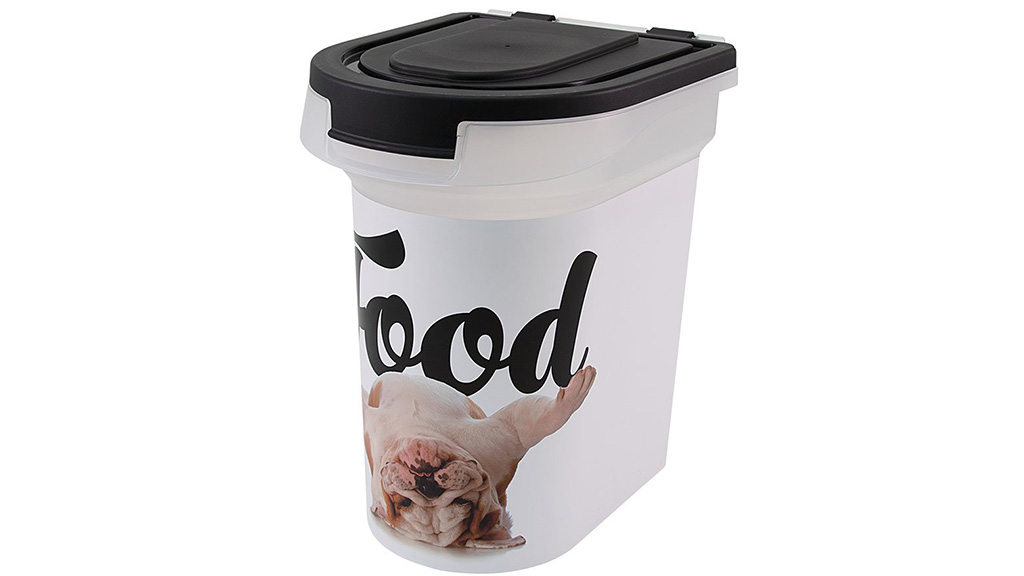 This 15-pound storage box has a minimalist design and a low price tag. The outside can be customized in a number of ways, one of which displays a cartoonish Bulldog. Customers love it because of the sturdy clasp, as well as the scooper and hook that come with it. The food can be measured out precisely with the scooper's etched lines. Although it passed our shaking and tilting testing with flying colors, this product is not waterproof and is best used as an interior storage container. But the lock is so sturdy that even the dogs won't be able to get in.
The container and its top can be easily cleaned, which is another perk. The scoop is also suitable for the dishwasher. The longevity of the container makes it a worthwhile investment. With its many uses and long expected lifespan, this container is a great investment for dog owners on a tight budget.
Pros: Low-maintenance design , Measuring scoop , Robust locking mechanism , Reasonable price
Cons: Not watertight
Behrens Galvanized Steel Dry Food Storage Can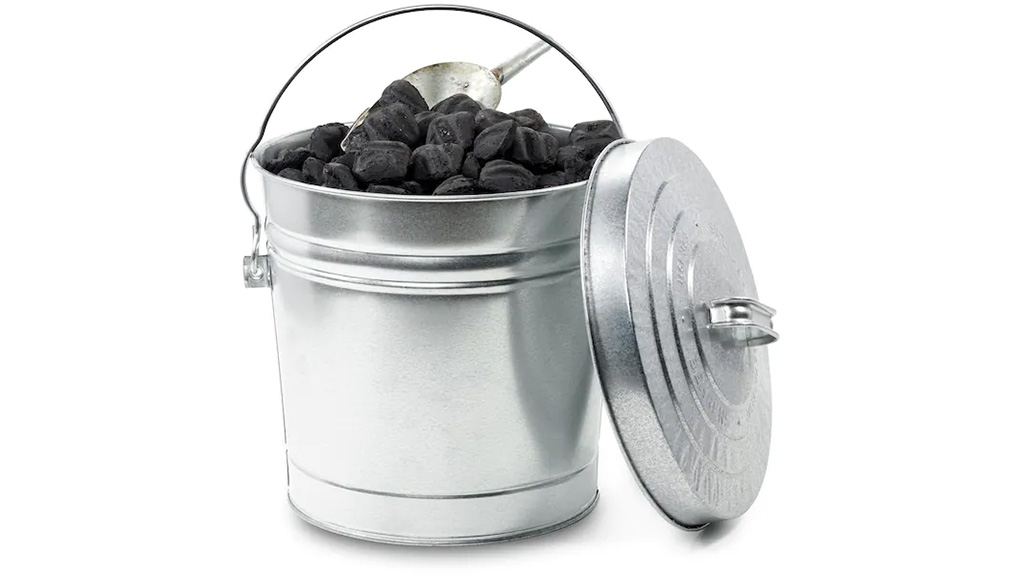 The Behrens Galvanized Steel Can is a weatherproof option for storing your dog's food outside. The food remained intact when the container was turned upside down and shook, therefore it passed the shaking test with flying colors. It can take being kicked, shoved, and even toppled over without breaking a sweat. There is no damage or wear on the container. Simply using a disinfecting wipe to clean it will do the trick.
However, there is no airtight seal or pour nozzle. The lid is also tricky to shut, but it's sturdy construction makes up for that. The snug top seal prevents insects from getting inside and also blocks access to naughty dogs. When compared to similar products, the pricing of this dog food container is quite reasonable. But you can only store roughly six gallons' worth of dry goods in there.
Pros: It's great for storing items outside and can withstand strong impacts, rain, and snow. It also keeps out pests.
Cons: The lid is difficult to open. , The volume is limited.
Simplehuman Pet Food Storage Can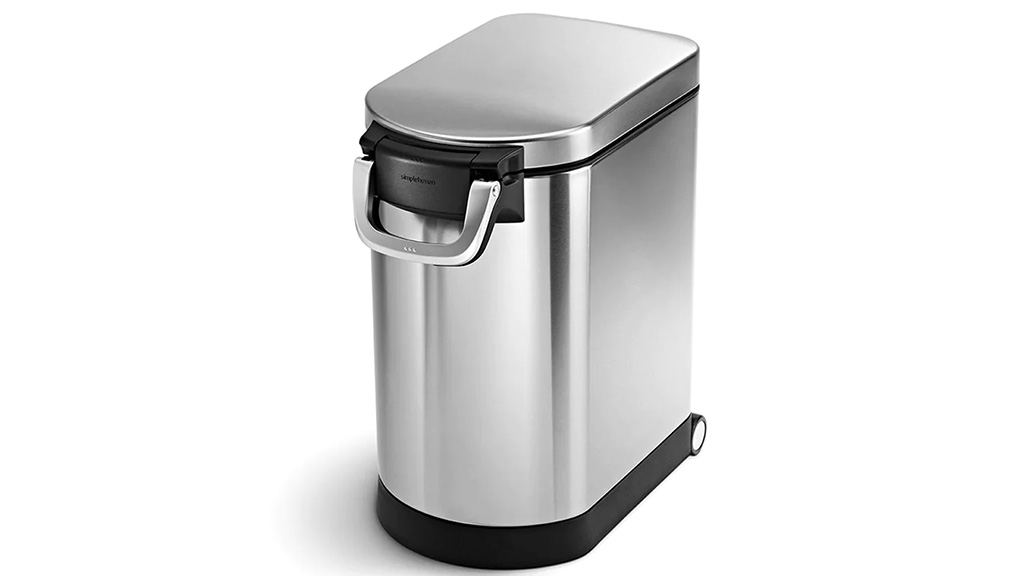 Among the choices we've provided, the Simplehuman Pet Food Can stands out as a premium item, but it's one we wholeheartedly recommend. This container has a BPA-free plastic inner bucket that can be removed from the outer stainless steel layer for easy filling and cleaning. The lid doesn't screw or clip on; instead, it has a large, ergonomic lock-tight grip that, when engaged, activates a silicone gasket to create an airtight barrier. (and prevents your pets from getting in). It also has a magnetic top with a measuring scoop attached, so you won't have to dig around in the dog food to find it.
No food was lost during testing, and the scoop stayed securely connected to the lid via magnets. This product's airtight and sealed design makes it ideal for homes with active dogs who occasionally get into mischief. That's why it's a top pick among dog food containers. The product may arrive dented, which is a drawback. Fortunately, the stainless steel coating resists fingerprints, so it will always look brand new.
The benefits include a narrow design, a lock-tight handle, a magnetic lid with an attached scoop, a fingerprint-resistant exterior, and a sizable capacity.
Cons: Expensive , Shipment may be dented
Ruffwear Kibble Kaddie Dog Food Travel Bag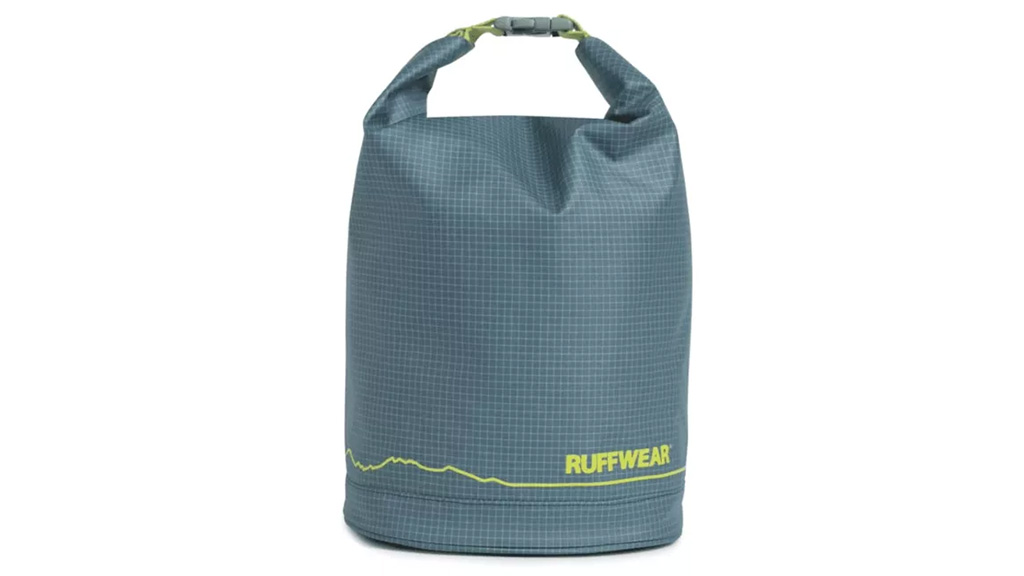 The Ruffwear Kibble Kaddie is a great option for transporting dog food when traveling. It has an internal pocket for keeping bowls, supplements, or anything else your dog might need to live their best life, as well as a food-safe main container with a spout for pouring food. It has a capacity of 42 cups, which is equivalent to about 10 pounds of dry food. The food stays fresh and secure thanks to the roll-down top, which adjusts its height as you serve. Then, the buckles on the strap's sides can be fastened together to form a convenient carrying handle for transport on hikes, camping vacations, and other outings.
This bag passed performance and durability tests without a hitch, staying tightly closed the entire time. While many travelers have found this backpack to be indispensable, others have complained about how tough it is to keep clean. Despite this flaw, it is perfect for camping and other forms of travel because to its strong construction.
Pros: Food-safe construction, a portable size, a pour spout, and a roll-down lid that keeps food fresh are all highlights.
Cons: Difficulty in cleaning
Outshine White Farmhouse Dog Food Bin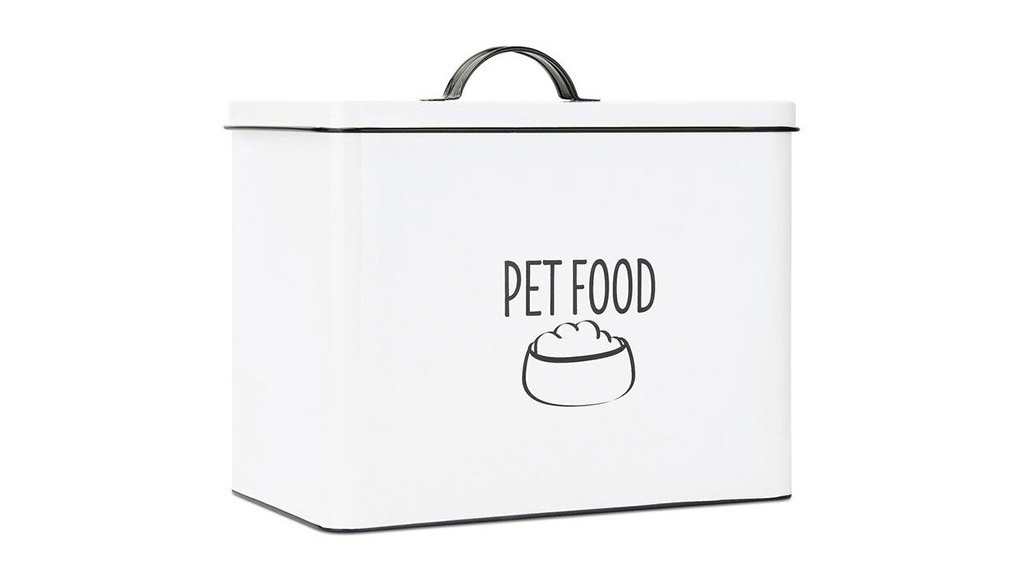 If you're looking for a dog food storage container with a little of flair, the Outshine White Farmhouse Pet Food Bin is a charming alternative that adds a vintage touch to your home. Powder-coated carbon steel makes it long-lasting, and a cling sticker lets you make it your own. Write your dog's name on the sticker with a dry-erase marker or a permanent pen.
It's a more compact option, with a capacity of only 12 pounds, but it's perfect for storing snack packets in plain sight. This pet food container might be a kind present for dog owners. If your family has more than one pet, you can buy multiple of these containers and label them individually for easy feeding.
Pros: include an airtight seal, the ability to be customized, and a retro design that will look great in any home and is Durable.
Cons:  Limited storage space
Gamma2 Vittles Vault Pet Food Storage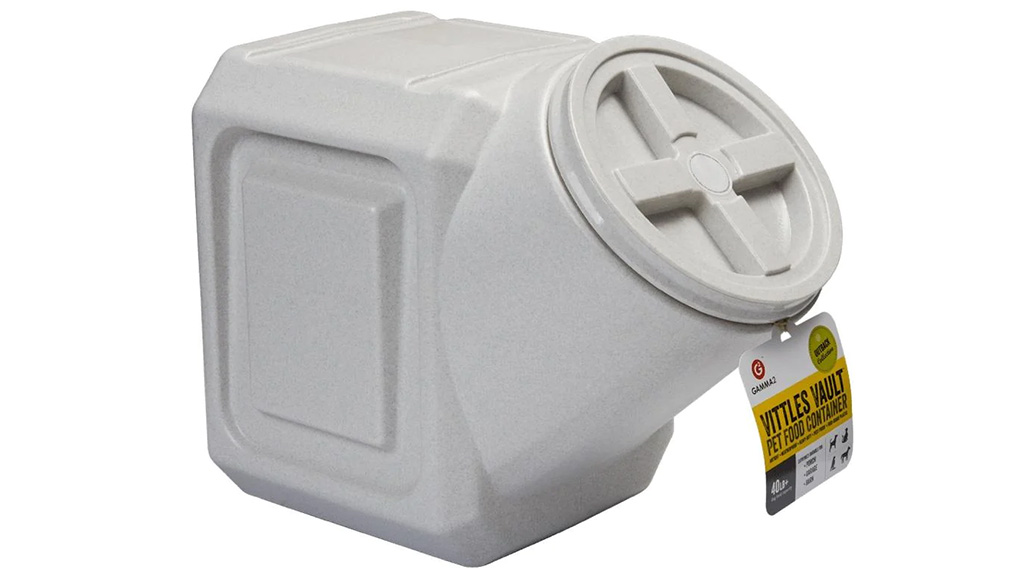 Your pet's food will stay fresh and be easy to access in this sealed container with a screw-on cap. A variety of sizes are available, with some storing as much as 80 pounds of dog food. This container is designed to fit neatly out of the way in your cabinet, so you don't have to worry about the dog food odor permeating other foods. The included scoop makes it easy to add food to your dog's bowl, and the sturdy plastic prevents animals from getting inside.
When submerged in water, this container can unfortunately leak, ruining the dog food within. This box shouldn't be used for outdoor storage, especially if you live somewhere damp. Despite this design flaw, it is still one of the best and simplest dog food containers available on the market today.
Pros:  High Capacity , Variable Sizes , Free Scoop , Stackable
COns: Not watertight
Van Ness Food Container with Fresh-Tite Seal with Wheels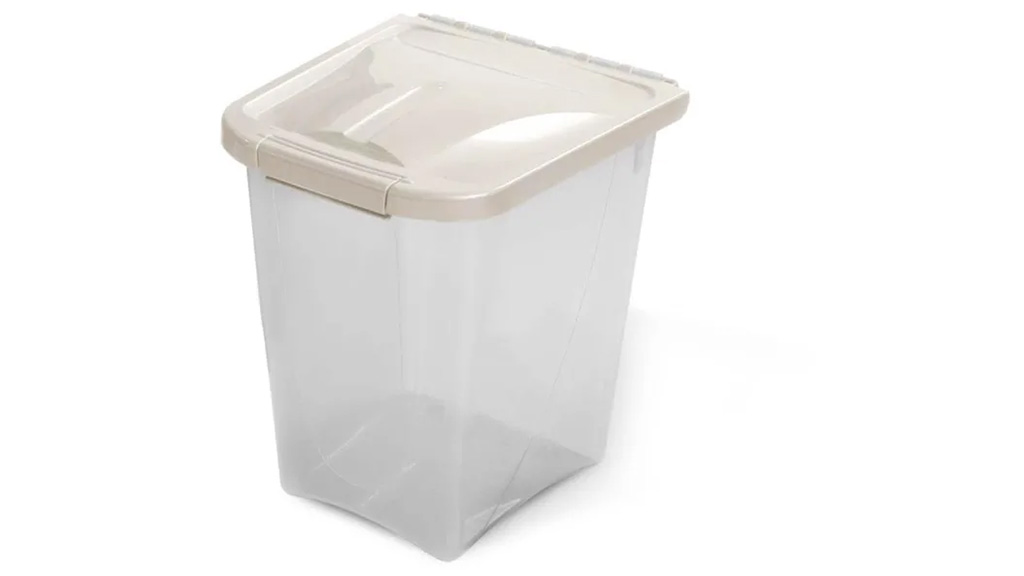 The price of a good dog food container can be rather low. With a maximum weight of 25 pounds, the Van Ness Food Container is large enough to hold most standard-sized bags of dog food. The seal on the container prevents air and pests from getting in, thereby preserving the food for a longer period of time. It has four wheels, so you can roll it about without straining your back to carry a heavy bag of dog food.
This container may not be the best option for homes with mischievous pets or large dogs, despite its "fresh-tite" seal advertising, as the lid may fall off if the container is knocked over. Don't leave it outside because it's not waterproof, either. Despite these small design problems, we still think it's a great option if you're looking for an affordable dog food container. The "Fresh-tite" seal, the 25-pound capacity, the wheels, the ease of cleaning, the low price, and the low maintenance cost are all pluses.