Instead of suffocating the dog like a slip collar would, a martingale collar allows for greater control. Greyhound, whippet, and "humane choke" collars are all names for the same type of Martingale dog collar. Due to the fact that sighthounds' necks are typically larger than their heads, the martingale dog collar was developed specifically for them. Trainers increasingly propose these collars to pet owners of all breeds in place of traditional choke chains and buckle collars.
A martingale collar on a greyhound. A martingale collar has two loops for attachment. The smaller loop is attached to the lead, while the larger loop is slipped over the dog's neck. When the dog tries to tug on the lead, the stress causes the little loop to become taut, causing the huge loop to contract and squeeze the dog's neck. When the dog isn't pulling on the leash, the collar should be loose enough for comfort.
The ability to take your dog for walks in safety and security is essential no matter what kind of lifestyle you and your dog enjoy. Walks can become a stressful pastime if you have a fearful puppy or a strong puller. Our martingale collars are highly recommended by professional trainers and rescue organizations as the ideal tool for regaining command of your walks. All sizes and breeds of dogs can trust in the safety and comfort of these collars. We also have a variety of flat collar options available.
Best martingale collar are:
The Country Brook Design Martingale Collar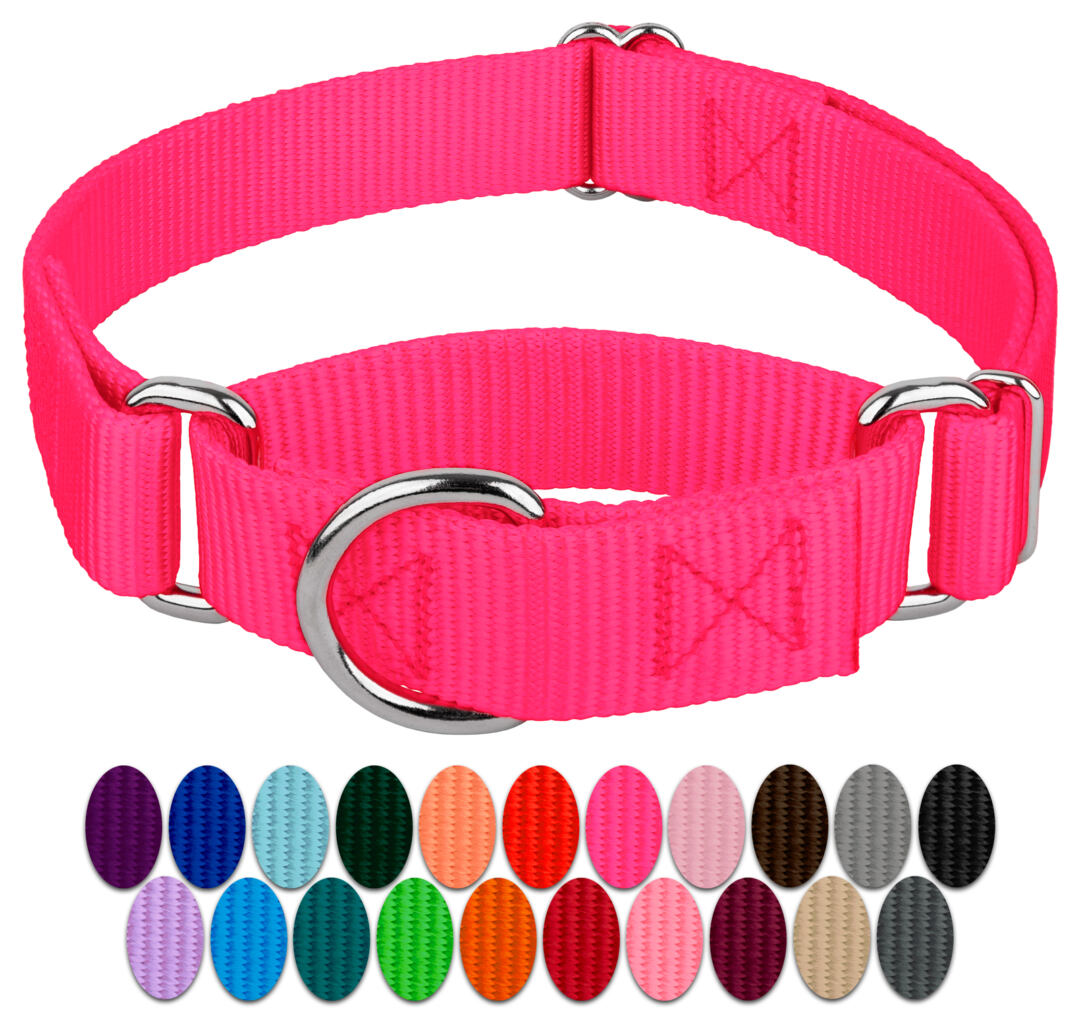 The Martingale Collar by Country Brook Design is an excellent accessory for your dog's wardrobe. The collar is one inch wide and may be adjusted to fit neck sizes ranging from 15 inches to 21 inches. The Martingale-style collar fits snugly and comfortably over your dog's head without the need for a buckle, making it ideal for training purposes.
The collar's nylon webbing is gentle on your dog's skin and provides a secure, comfortable fit. The nickel-plated steel hardware makes it stronger and more durable than plastic collars. This collar looks wonderful on your dog and comes in a variety of vibrant colors so you can express your individual style. Now that your dog has a collar that looks good and is built to last, you won't have to worry about normal wear and tear. This collar for dogs is the greatest because of its convenient layout, beautiful hues, and timeless design. Doesn't bother the dog's sensitive neck area. Nothing to come undone, like a buckle or a clasp. Extra-sturdy metal fittings and thick webbing. Beautiful hues available.
The PetSafe Martingale Dog Collar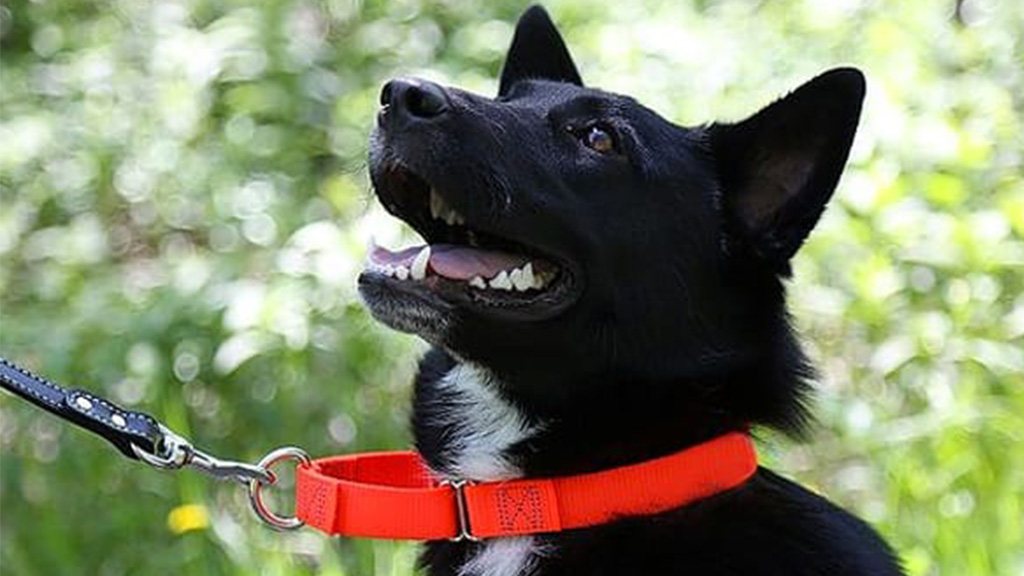 If you're a dog owner in search of a safe and secure collar, go no further than the PetSafe Martingale Dog Collar. The buckle opens quickly so you can get your dog in and out of it with ease. Because it tightens when your dog pulls and relaxes again when they stop, this collar is significantly safer for your pet. Better yet, the strong nylon material guarantees your dog's utmost comfort on your daily excursions.
This collar is designed to prevent your dog from escaping while out on walks by limiting its ability to slide around their neck. It's available in a wide range of sizes and hues, so you may find the perfect complement to your personal sense of style. Sizes and hues to suit your needs. Fabric that is both kind on the skin and sturdy in use. Much more secure than regular collars.
Dazzber Martingale Dog Collars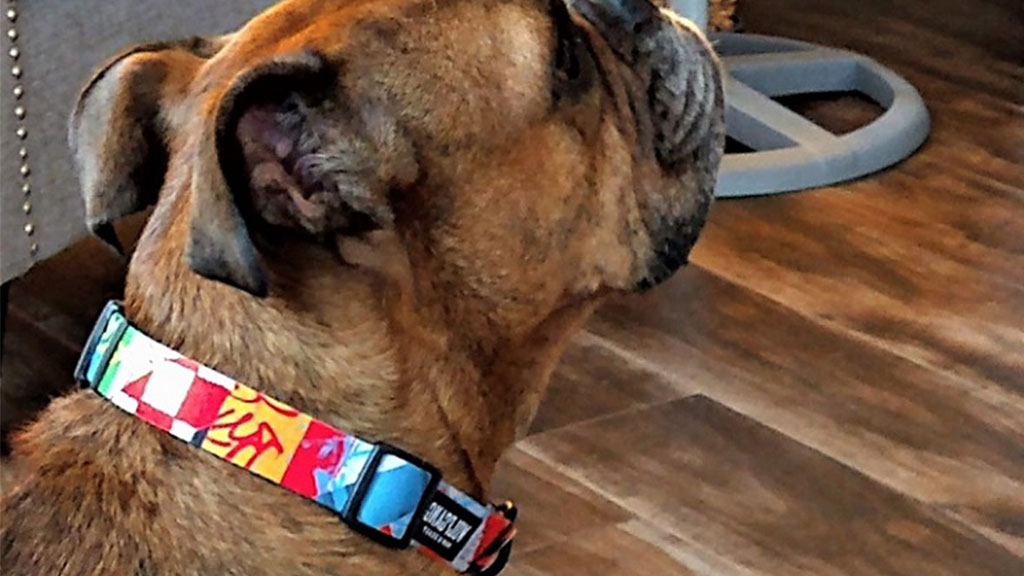 The large Dazzber martingale collar may accommodate a neck size between 17 and 25 inches around. The polyester webbing material has a smooth, luxurious feel that we appreciate. It can be cleaned in cold water by machine or by hand. These martingale dog collars stand out thanks to their eye-catching patterns and styles.
This is an old-fashioned martingale collar, thus there is no buckle. If for any reason you are not completely happy with your purchase, the company promises to either replace it or refund your money.  However, the material is not very flexible, and the plastic knob is cumbersome and hard to turn. Heavy-duty, Velvety smooth, Washable, Patterns and hues that stand out. Formally conventional, definitely a one hundred percent assurance.
Max and Neo Martingale Collar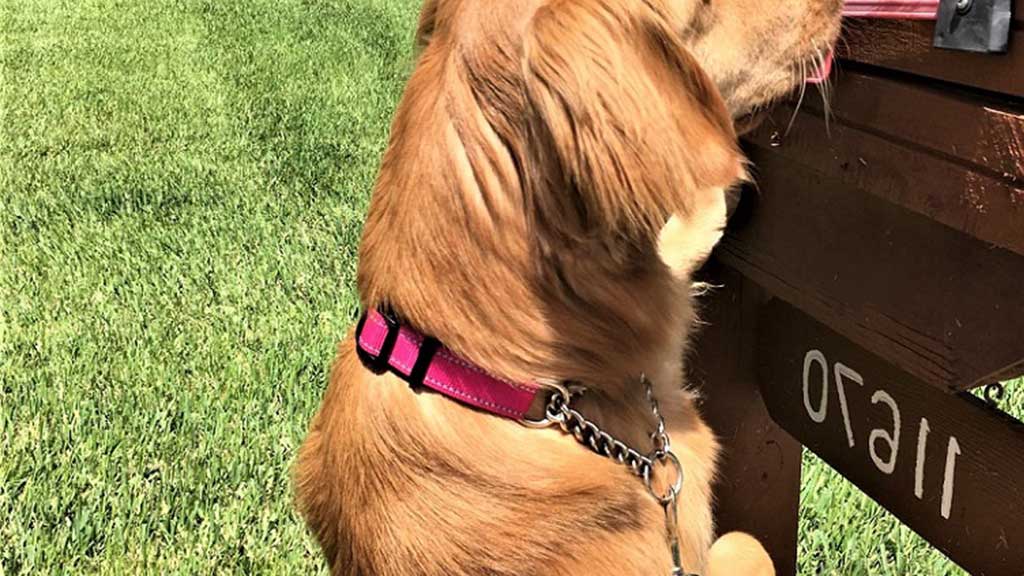 This martingale collar for dogs is 1 inch wide and constructed from 2mm nylon chain. The chain's stainless steel construction and the 5mm thickness of the D-ring are also features we appreciate. It has a lockable tab to prevent inadvertent release of the snap clasp and is available in multiple colors. The luminous stitching along the collar is a lovely touch that will help you be seen when you go for walks in the dark. If your neck measures between 14 and 17 inches, go with the medium. For every collar sold, the firm gives one to a shelter for dogs in need.
Unfortunately, the chain doesn't slide across the tension loops as easily as one might like. Since the other two collars on our list offer comparable functionality at more reasonable prices, we ranked the Max and Neo collar lower on our list because it is more expensive. Chain made of stainless steel. Long-lasting D-ring. Belt buckle with a lock. Threads that reflect light. A rainbow of hues. Donations made with each buy. As the cost of living continues to rise, everyone is looking for methods to save costs. This is why we are starting with the Max and Neo martingale collar, the cheapest option on our list.This dog collar may be simple in design, but it works just as well as more expensive options.
Wolfgang Man and Beast Martingale Collar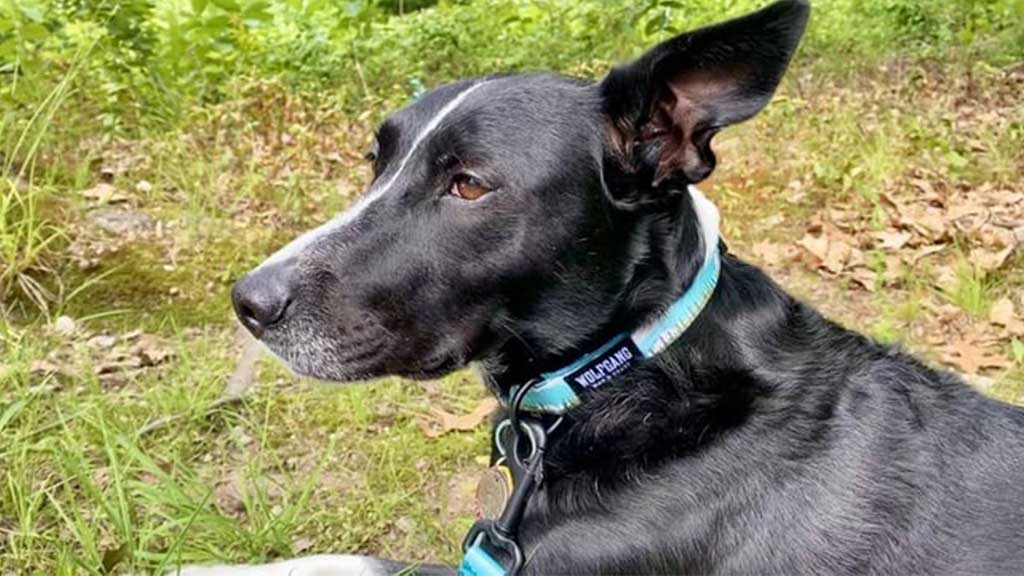 Need a martingale collar to contain your Great Dane? This collar from Wolfgang's Man and the Beast has been shown to endure pull forces of over 800 pounds, so there's no need to keep looking. Hey, the maker has already considered how this collar might feel on your dog's sensitive neck. The polyester webbing guarantees a smooth ride, while the collar band's finished edges and ends are heat-treated to eliminate the possibility of chafing.
Nature-inspired motifs are the crowning glory of this top martingale collar for dogs, making it the most fashionable option. Instead of weird looks from strangers, you'll get plenty of raised eyebrows. You won't have to worry about the collar fading because it has been coated multiple times with a stain and UV-resistant treatment. There are four sizes available, Available in a wide array of hues, Products made from nylon, polyester, and alloy steel. The fastening is a snap buckled ring for loops. The collar won't slide over your neck thanks to the sturdy nylon buckle. The D ring's powdered coating on the stainless steel ensures the leash won't break.
Blueberry Pet Martingale Dog Collar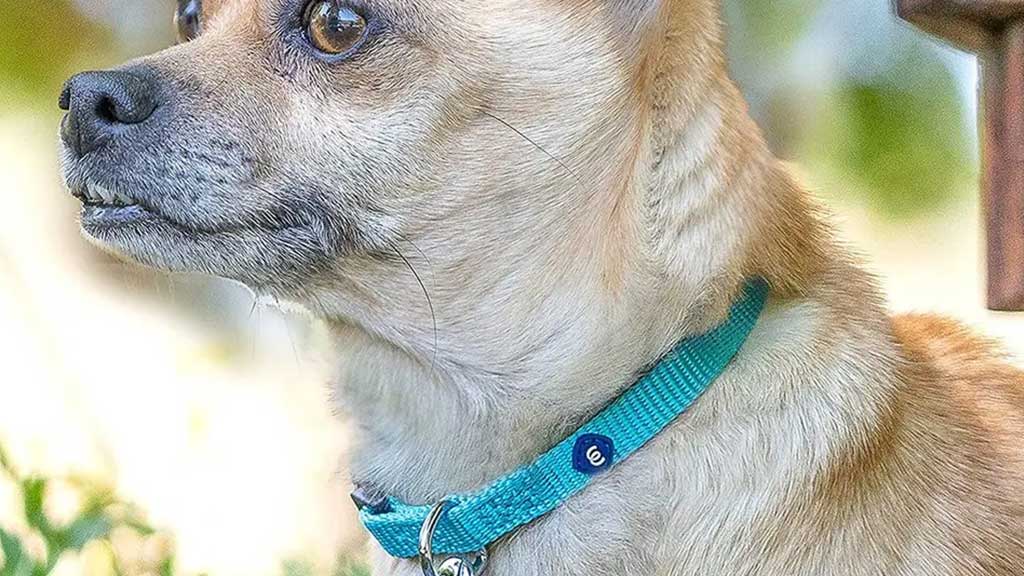 Do you wish your dog's martingale collar could better reflect your individual style? This martingale collar from Blueberry Pet has you covered, since it comes in both standard and personalized varieties. Sizes range from extra small (XS) to extra-large (XL) in the plain series. Custom collars, on the other hand, offer the same choice of sizes with one notable exception. Collars can be personalized by having information of your choice embroidered on them. You can customize your dog's collar by having the manufacturer include your contact information.
In addition to the data, you can customize this tool for dog training by selecting from eleven different text sizes and colors. Having three metal D-rings and a layer of waterproof nylon in the design is a nice touch. The tri-glide may be made of plastic, but it is surprisingly sturdy and easy to use. Dimensions: a bespoke four, Shades of color are available. Nylon is the material, Slide-on fastening, A D ring is a loop. The company logo is embroidered into the collar of plain collared shirts to make them look more professional. To avoid unraveling, all of the stitches have been thoroughly covered.
Alcott Reflective Martingale Dog Collar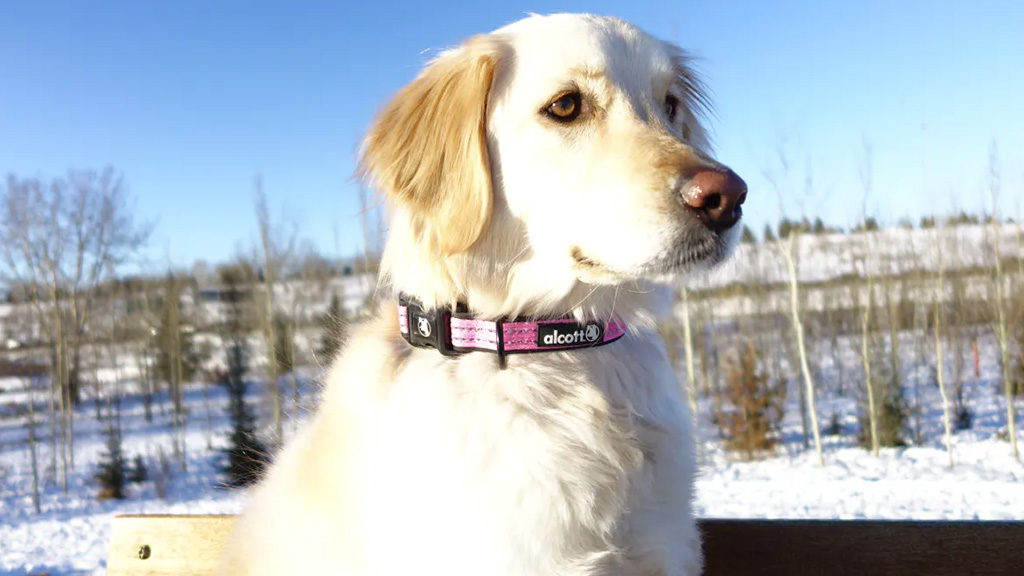 The Alcott Reflective Martingale Polyester Dog Collar is constructed entirely from polyester. This collar's padding is made from neoprene, a synthetic rubber that is resilient, waterproof, chemically resistant, and thermally stable—all qualities that will come in handy. Therefore, wear and tear or jagged edges shouldn't be a concern.
The owners also fail to note any stretching of the polyester. This fluorescent collar is a slip-on style that is stitched together at the seams. A reflective sheen covers the entire collar, making it ideal for exploring the city after dark. A release buckle would make this a great hiking and traveling option. If a slip-over collar is okay with you, check out Alcott's Martingale option. The small neck circumference ranges from 10 to 14 inches, thus it won't work for puppies or toy breeds with small neck girths.
Undoubtedly, martingale collar for dogs work marvelously to make your morning strolls delightful, but here are some safety considerations you should keep in mind to make these strolls enjoyable for your dog, too: If you want to know if your dog is comfortable in his collar or not, look for chaffing or other signs of abrasion on his neck. Never use the collar for off-leash walks; if it gets caught on something, the collar will tighten until your dog strangles to death.
Never walk your dog at night with a martingale collar on it unless you are also using a fluorescent collar or led collar. Your dog should never have his collar on when unattended or in a kennel. If your dog is still being difficult after you have tried using a martingale collar on him, you should cease using it immediately. Talk to dog trainers and then try out several types of training collars like citronella or no-pull versions.