You want to take your dog or cat camping with you, and preparations are underway. How exciting! Taking your dog camping may be a lot of fun. In the warmer months of spring and summer, going camping is a common pastime. Many of us wouldn't consider taking a weekend trip without our dogs. Dogs make fantastic traveling companions, but there are a few things to keep in mind before letting Fido hop in the backseat. This manual will help you determine whether or not your dog is prepared for a camping trip, as well as how to pack for your vacation and ensure everyone's safety.
Preparation is the key to a stress-free camping experience with your dog of any size. Your dog can join you on your camping trips without having to be boarded if you take the time to prepare and stock up on the essentials such as food, dishes, safety gear, and medication.
Tips for Camping With Dogs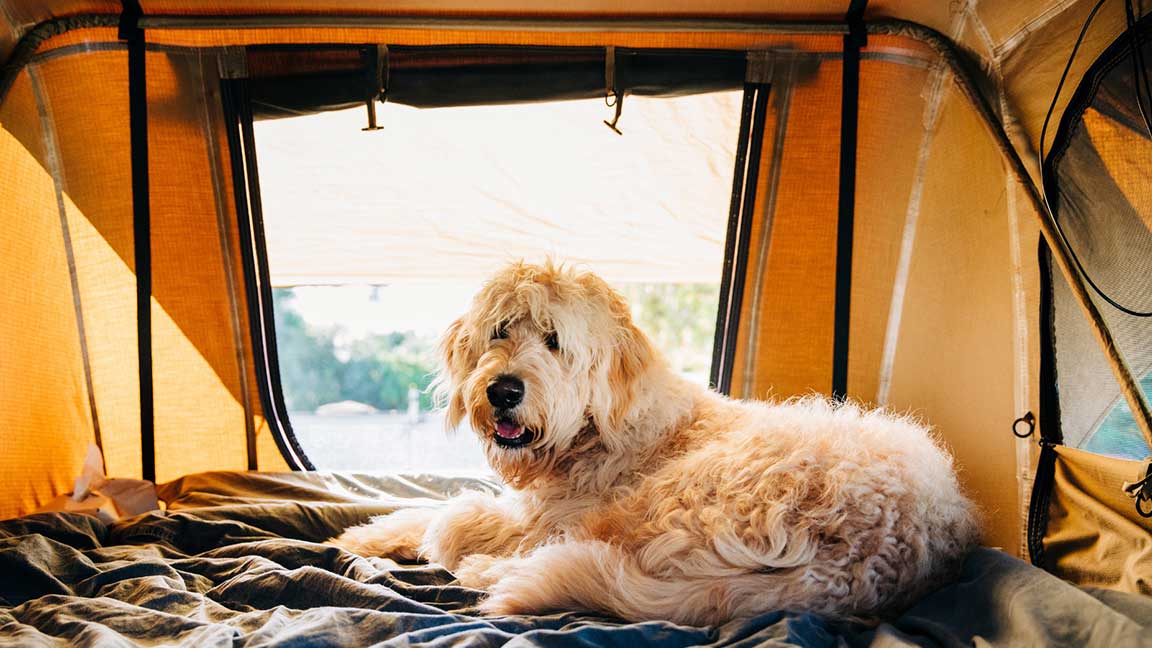 The summer months are prime time for outdoor recreation. Many of us find this time of year to be perfect for camping trips with our canine companions. These camping with dogs ideas are useful whether you're a seasoned backcountry hiker or a first-time car camper. Here, you'll find everything you need to know to get your dog (and yourself) ready for a day of outdoor fun.
KNOW YOUR DOG'S CAMP PERSONALITY
Evaluate your dog's condition before taking him on a backcountry trip. Could she be a lounge lizard? One option is to take a journey in a car and camp. Is she a fearless dog athlete who enjoys spending time in the great outdoors? A weeklong hiking excursion might be just what the doctor ordered.
The success of your vacation will depend on your candor regarding your dog's character. The vacation you take with your dog will seem extremely different depending on whether or not he is fearless in unfamiliar situations. Consider taking your dog on a few day outings and picnics before organizing a camping vacation if you're worried about how he or she will adjust to camp life.
KEEP YOUR DOG SECURE AT ALL TIMES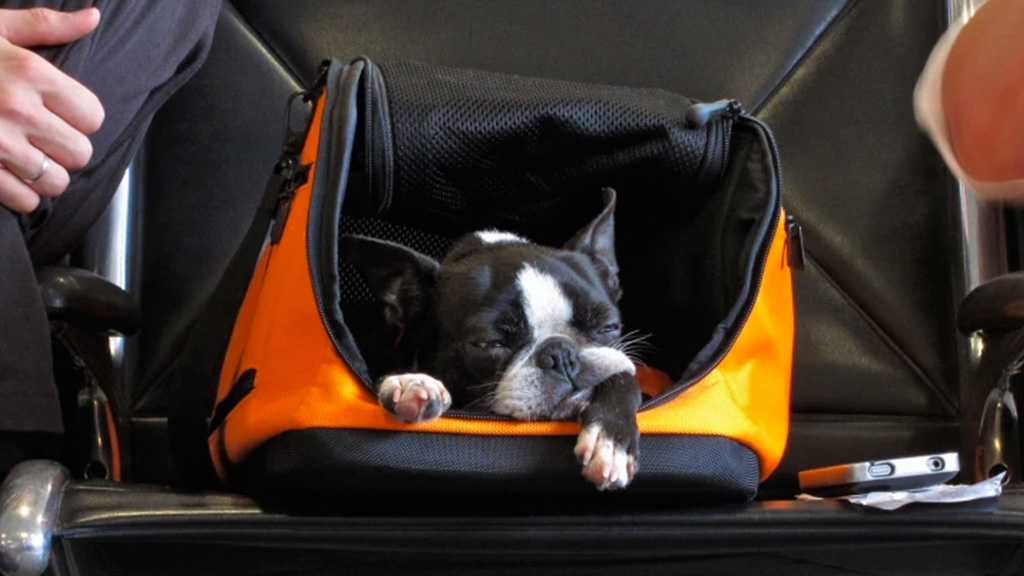 Always have a leash on your dog. The easiest method to keep your dog safe when camping is to follow the rules and use a leash. When taking your dog for its first stroll around the campground, it is especially vital to keep it on a leash. They may become overstimulated or overly excited by all the new sights, sounds, and other pets; a leash is the best method to keep them close by your side. This includes keeping your dog on a leash at all times, both within the campground and beyond.
 BEWARE OF WILD ANIMALS
There are other people and animals besides other campers and their pets to watch out for while camping. Keep your eyes peeled for any and all plant and animal life. When camping or engaging in other forms of outdoor leisure with your dog, it's important to remain vigilant. Never give your dog a sip of stagnant water, and keep him away from lakes, ponds, and rivers where blue-green algae blooms. Before venturing out on a trek or a walk, familiarize yourself with the local flora and know how to recognize a toxic plant.
Dog Camping Eessentials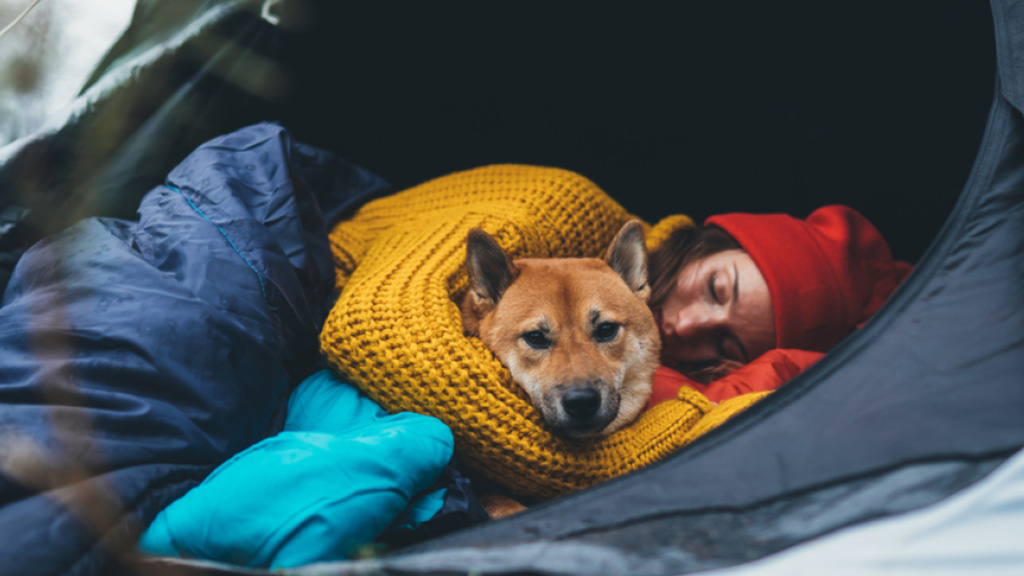 Collapsible food and water bowls:
You can easily provide clean water and food for your dog at all times by using collapsible bowls. When not in use, please put away the bowl. The water dish should be portable so you can bring it along on day hikes and other outings with your dog.
A collar light
Keep your dog safe at all times, especially at night, with a collar light. On the market, you may find a wide variety of clip-on lights and collars with LEDs. You can use a bike light, a headlamp, or anything else as long as you can keep an eye on your dog.
First-aid kit
It's better to be safe than sorry in the event of an accident. Prepare for bug bites, paw pad injuries, and more with a towel, hydrogen peroxide, antibiotic ointment or spray, gauze, a tick remover or tweezers, a soft muzzle, booties or small socks, and Benadryl in case of an allergic reaction or bee sting, even if you're at a drive-in campsite with electricity or glamping in style.
A sleeping bag or blanket
For use as a cover while you sleep, Depending on the time of year, you may want to provide your dog with a sleeping bag, blanket, or at least a thin pad between the tent floor and his sensitive paws. Your dog will be warm in this layering system, and he or she will learn quickly that tent time signifies bedtime. You should not let your dog sleep on the ground in the woods but rather on a bed or blanket.
Camping Crate
We've already discussed that bringing a camping box for your dog is a smart idea. Invest in a kennel that is designed for camping if you plan to take your dog with you. These crates are built to last longer than their plastic counterparts thanks to features like built-in tie-downs and weatherproof construction.
Kennel
A camping kennel is an option to consider if your dog is particularly large. Kennels are fantastic since they provide your dog with a large amount of free room. In addition, a cover is included so your dog can rest comfortably in the shade.
BRING PLENTY OF TOYS
Do not assume that your dog will be adequately stimulated simply by spending time outside. Your dog will appreciate the freedom to run around and play outside, but you should be aware that the weather can change suddenly and that he or she may become bored. Prepare in advance by packing their favorite outdoor-friendly toys like rope chews, plushies, and tennis balls.
Poop bags for clean-up
Waste disposal bags – Pack in, pack out campgrounds require campers to transport and dispose of their own trash, including dog poop. We use a small bucket with a secure lid.
A camp leash
In order to prevent their dogs from wandering away from the campsite and getting into trouble, many campers choose to use a long leash when they're hanging out there. This is a great opportunity to give your dog a taste of independence in a responsible manner, as many campgrounds have leash policies in place.
Preparing for Your Camping Trip BEFORE YOU LEAVE HOME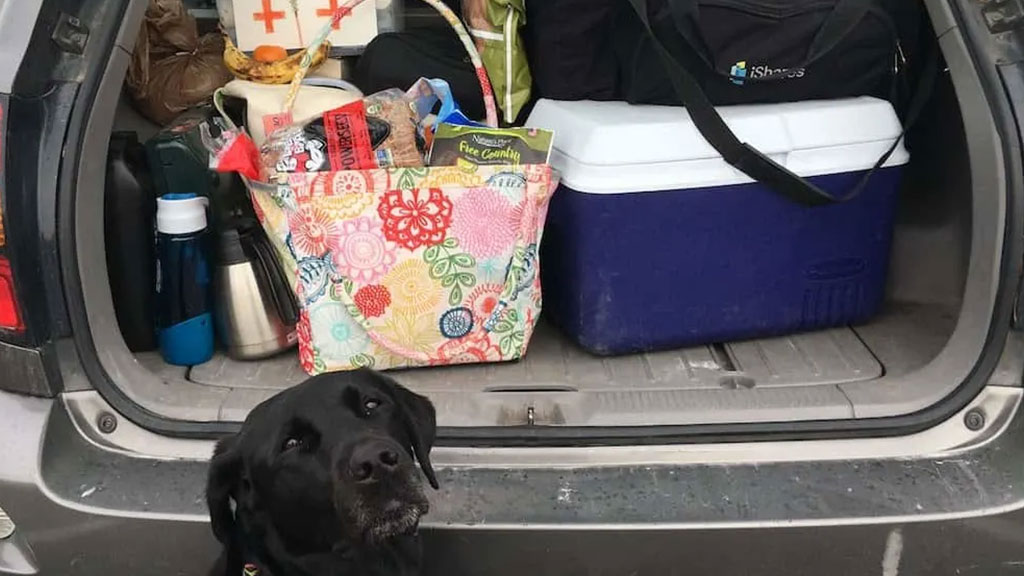 Dog is up-to-date on vaccinations.
Vaccinate your dog regularly and keep him up to date. Rabies and distemper vaccination certificates are often required to camp in parks and campgrounds. Heartworm, which is spread by mosquitoes, should also be treated.
Provide your dog with the proper ID
Put your contact information, including your cell phone number, on an ID tag and attach it to a sturdy collar for your dog in case it gets loose. Just in case, we always make a temporary tag with our campground number and the dates we'll be there.
Pack Plenty of Dog Food and Water
Make sure you have extra water and dog food for the duration of your trip. Rapid dehydration in dogs is a common problem that can be prevented with a steady supply of fresh water.
Choose a campsite that allows dogs
Unfortunately, not all campgrounds share our enthusiasm for canine companions. Pick one that allows dog-friendly camping. There could be additional fees and constraints. Know what to expect by reading up on the area before you go.
DOG-FRIENDLY ACTIVITIES FOR CAMPING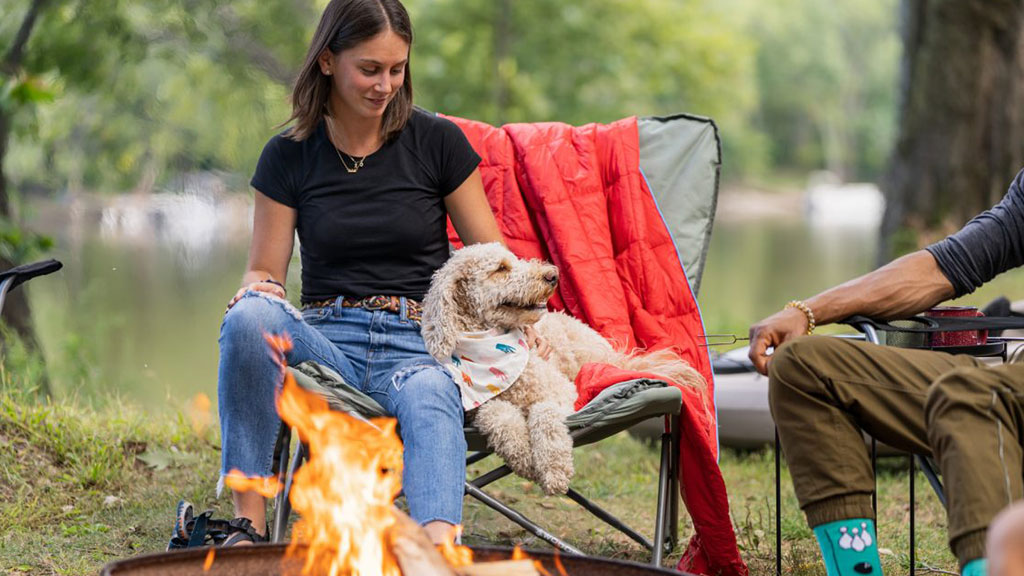 Of fact, many canines could play with a thrown ball or toy for hours on end. If you throw in some snacks, it will be the best day of their lives. However, we humans can only throw balls for so long before we get bored. You should include some extra dog-friendly activities for when boredom (or RSI) sets in while camping with dogs. Sure, no sweat. Bringing your dog along for the adventure will ensure that it has the best day of its life.
Trail running with dogs
Running the route instead of walking it is a great way to save time and energy because you can cover more land. If your dog has a lot of energy, a morning of trail running will wear it out for the remainder of the day. When you're far from civilization, it's nice to have someone to talk to.
Swimming
If you and your dog are camping near a body of water (lake, river, or beach), take advantage of the opportunity to cool off in the water. In the water, many dogs have fun playing fetch with sticks or balls.
Dog games
You and your dog should bring a flying disc or Frisbee so you may play catch. When there's downtime at the campsite, bring puzzle games or toys that dispense treats to keep them occupied.
Hiking with dogs
Before setting out on the path, make sure there aren't any rules against bringing your dog along. In addition, you should adjust the distance to match the abilities of your puppy's legs and lungs. The regulations and etiquette for taking a dog on a hike are similar to those for taking a dog camping. Most places require that you restrain your pet with a leash. If you want your dog to be more at ease, you should use a harness instead of a collar.
FINAL THOUGHTS
It's not hard to make your dog happy, but if you really want to watch his enthusiasm soar, throw on your hiking boots and pack up the van for a camping trip. Camping with your dog can be a fantastic way to spend quality time together in the great outdoors. However, you'll need to make sure your dog is safe, comfortable, and that you follow all the laws of the campground. Spending time in the great outdoors while camping with your dog can provide for some unforgettable memories.
Faqs