Even if your dog is getting on in years and despises walks, you still have options. We'll demonstrate the best dog strollers on the market and explain what to keep an eye out for while searching for a stroller for your dog. Your dog may not be able to go on extended walks if it is particularly little, aged, or injured. This is not an excuse to abandon them at home. With the greatest dog stroller, your furry friend can tag along on all your travels.
Here is a compiled list of the top dog strollers that we hope you'll find helpful. Here are our top selections for you to consider, depending on the size of your dog and how you plan to use the stroller. People who like to be active but have dogs that can't join them would benefit greatly from dog strollers. You may enjoy long walks and jogs, but your pet is too tiny to go with you. Maybe your dog used to love going for walks, but now that he's older, he gets tired very quickly.
A dog stroller is a great way to spend quality time with your pet without stressing them out. The extreme temperatures that can be experienced on the sidewalk throughout the year can be harmful to the paws of your pet. You should protect your dog's paws from the hot pavement this summer. It's not just the cold that can hurt your dog's paws in the winter; road salt can also be harmful.
You may take your dog for a walk in the park or on the street without worrying about the condition of its paws when you use a dog stroller. A dog stroller expands the range of possible outings with your canine companion. Many stores and restaurants do not permit dogs on leashes but may allow one in a stroller. Dog owners may run errands, attend events, and even commute to the office with their pets in tow by using a stroller.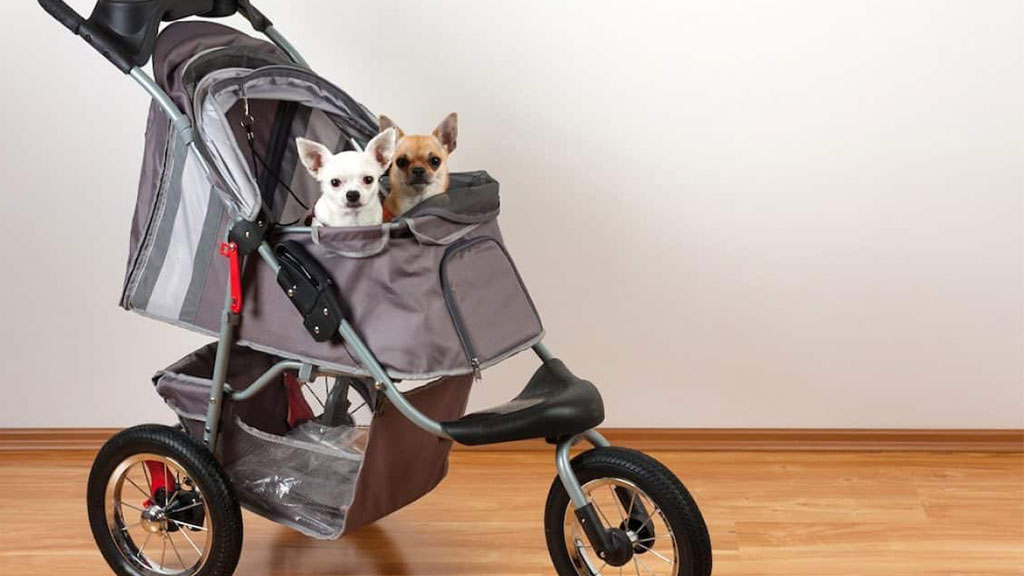 It's important to consider your dog's size and weight as well as your intended use of the stroller before making your selection. Here are seven of the greatest dog strollers to choose from.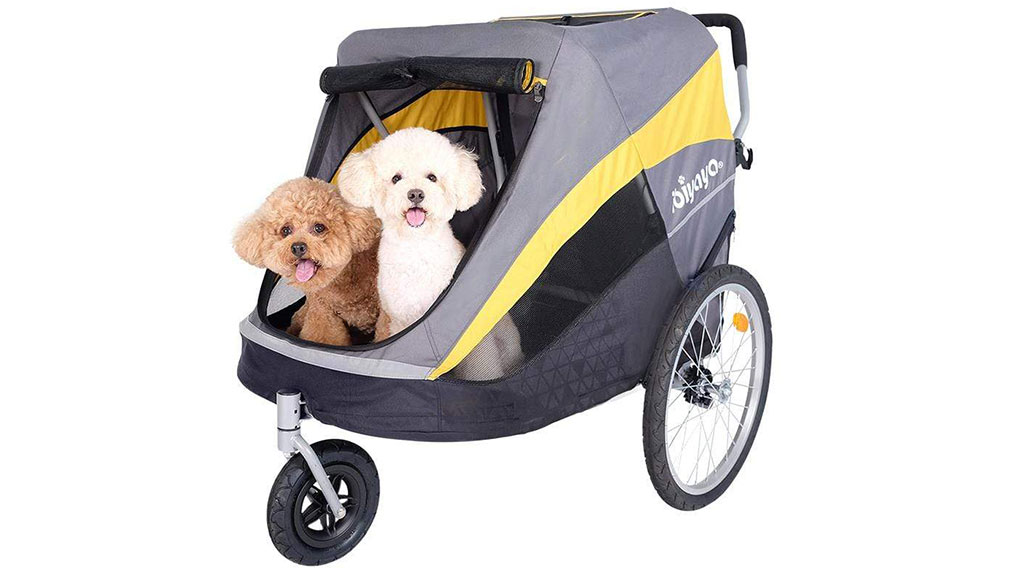 Heavy-duty pet strollers may carry many pets or larger canines. These strollers include aluminum or steel frames and larger wheels and tires for stability and agility on uneven terrain. Some heavy-duty strollers have shock absorbers, adjustable handles, and extra storage for supplies and accessories. When buying a heavy-duty pet stroller, consider your pet's weight and the stroller's weight capability. To keep your pets safe, look for strollers with secure belts or leashes and reliable brakes and locking systems. A sturdy pet stroller lets you confidently take your pets outdoors.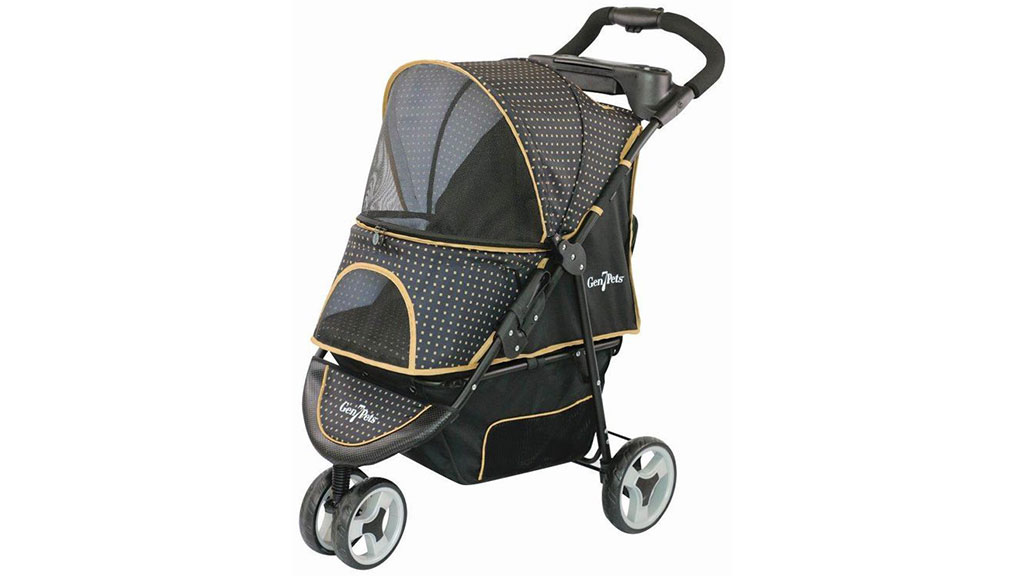 Because it offers everything pet parents look for in a dog stroller, we found that the Gen7 Pet Stroller was the best option. Reviewers agree that the Gen7 Pet Stroller is exceptionally well-made. Some pet strollers require complicated and time-consuming assembly, but not this one! The maximum weight limit for the Gen7 Pet Stroller is 25 pounds. It's easy to control thanks to its low weight and compact dimensions. It folds down small enough to fit in a car trunk. The ride is so comfortable for pets that customers can't stop raving about it.
The Gen7 Pet Stroller's front wheel swivels 360 degrees, however the front wheels of some competing models don't revolve as smoothly and make for a rougher ride. One proposed improvement to the stroller is a new look. This dog stroller used to have a tray with cupholders, however that function has been removed in favor of a pocket made of fabric. However, if you can live without a cupholder, this stroller is nearly perfect. Its features are comparable to many more expensive dog strollers, but it just costs $109!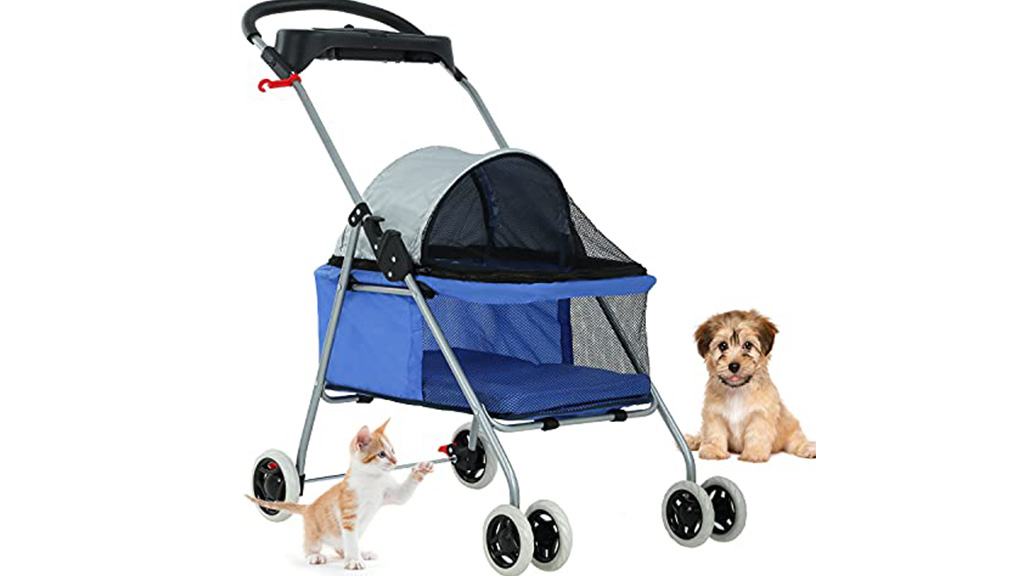 Can't afford to spend $100 or more on a high-quality pet stroller, but you still want one? The BestPet Stroller, available on Amazon for just $41.99, is our top selection for the lowest-priced dog stroller. While the plastic wheels won't fare well on unpaved conditions, this stroller will serve your basic transportation needs well. Dogs up to 25 pounds in weight are welcome in this stroller. Two small dogs may ride in style, say reviewers.
Users gush over how effortlessly it fits in cars, closets, and other tight spaces, compared to other, larger dog strollers. This inexpensive stroller is suitable for everyday usage on smooth pavement, but you may want to look elsewhere if you plan to take your dog for long walks or jogs. One reviewer was astonished by the product's high standard considering its low cost.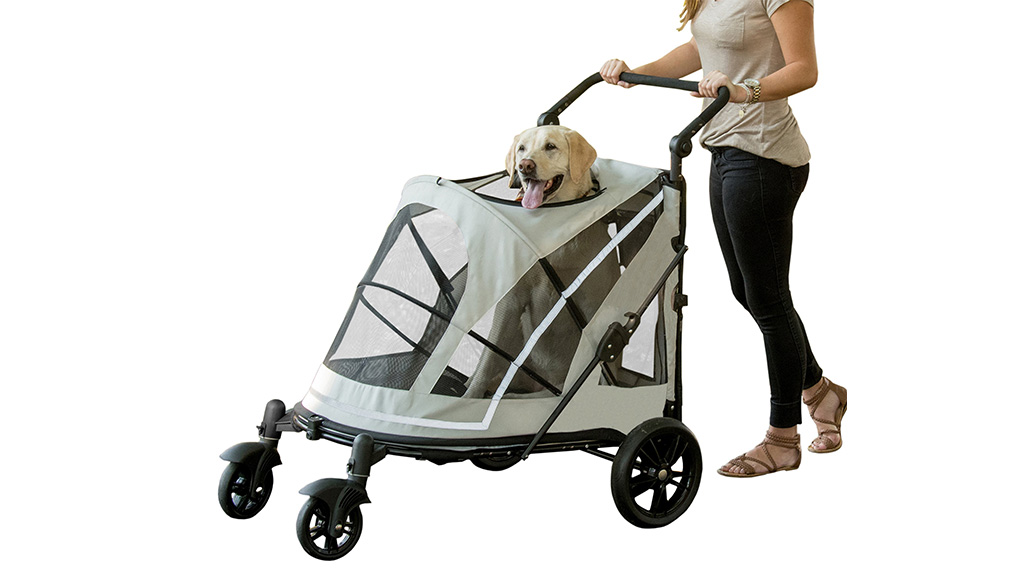 The Pet Gear No-Zip Happy Trails Lite Pet Stroller is a lightweight and compact alternative to bulkier models of dog strollers. Our top pick for lightest dog stroller has a weight limit of 25 pounds, but the stroller itself is only 11.5 lbs! Getting your dog in and out of this stroller won't require any fidgeting with zippers. The lack of a zipper on the Pet Gear stroller makes putting and taking your dog out of the stroller a breeze.
The negatives of this stroller have been debated among reviewers. One reviewer even included a video demonstrating how simple it is to fold, despite claims to the contrary. The front wheels, so the story goes, are shaky. However, one reviewer claims that this is an issue with the installation, and that the wheels would not wobble if mounted properly. So, you should probably disregard these negatives. With almost 3,000 five-star reviews on Amazon, it's clear that buyers find more benefits than drawbacks.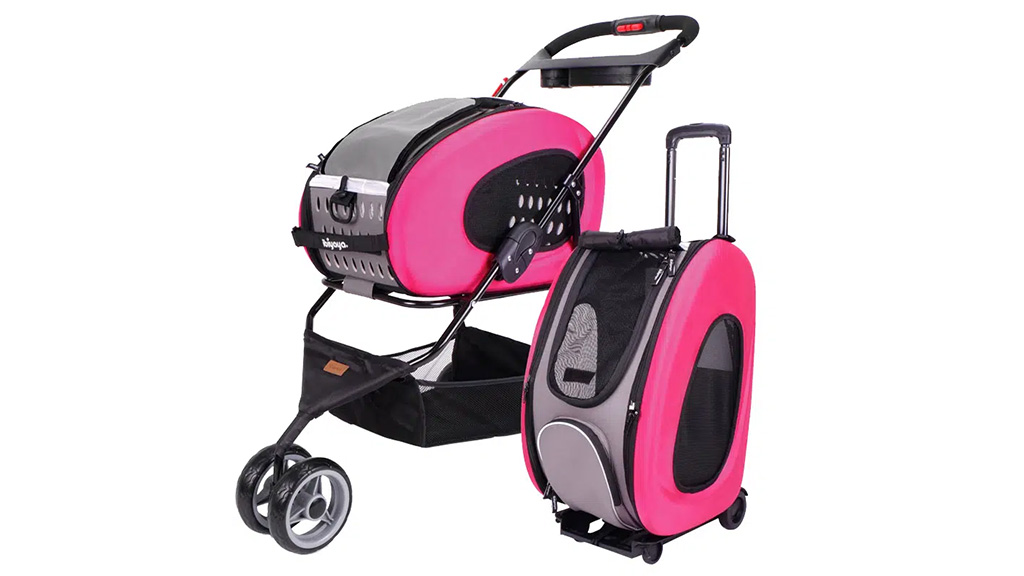 The Ibiyaya 5-in-1 Pet Carrier, our top selection, is more than simply a dog stroller. It's a stroller, a pet car seat, a pet backpack, and a pet carrier on wheels, all rolled into one. Reviewers have praised the carrier's adaptability, saying it may prevent them from needing to buy several separate items. The maximum weight for a dog using this stroller is 16 pounds.
Several customers' pets were within the weight limit but did not fit comfortably in the stroller, thus reviewers advise double-checking the measurements and not just going by the weight limit. The Ibiyaya 5-in-1 carrier can be converted from a stroller to a car seat to a backpack to a backpack to a backpack to a backpack. Your dog will be secure and comfy whether you're using it as a vehicle seat or as an aircraft pet carrier.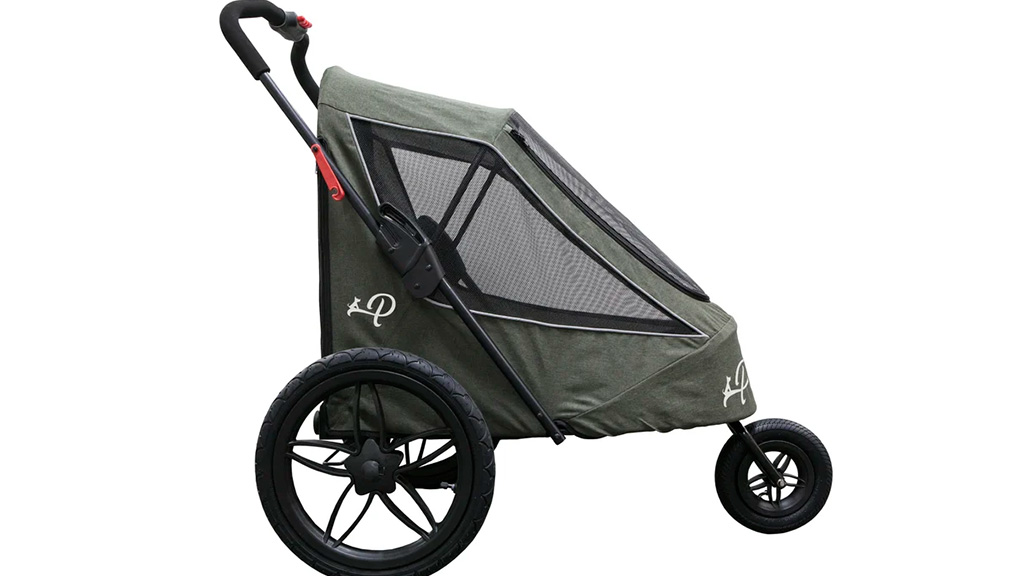 Check out the Petique All-Terrain Jogger if you want a dog stroller that can handle rougher terrain and can be used for jogging. This sturdy stroller is our top pick for the Best All-Terrain dog stroller due to its wide bike tires that provide excellent traction and shock absorption. The Petique Jogger, unlike many smaller strollers, can carry canines weighing up to 60 pounds. Some reviewers noted their smaller dogs had trouble because the stroller was top heavy in the back.
If you have a little pet, you should give this some thought. If you plan on walking and jogging with your dog on a variety of terrains, the Petique Jogger is well worth the extra money compared to the other strollers we tested.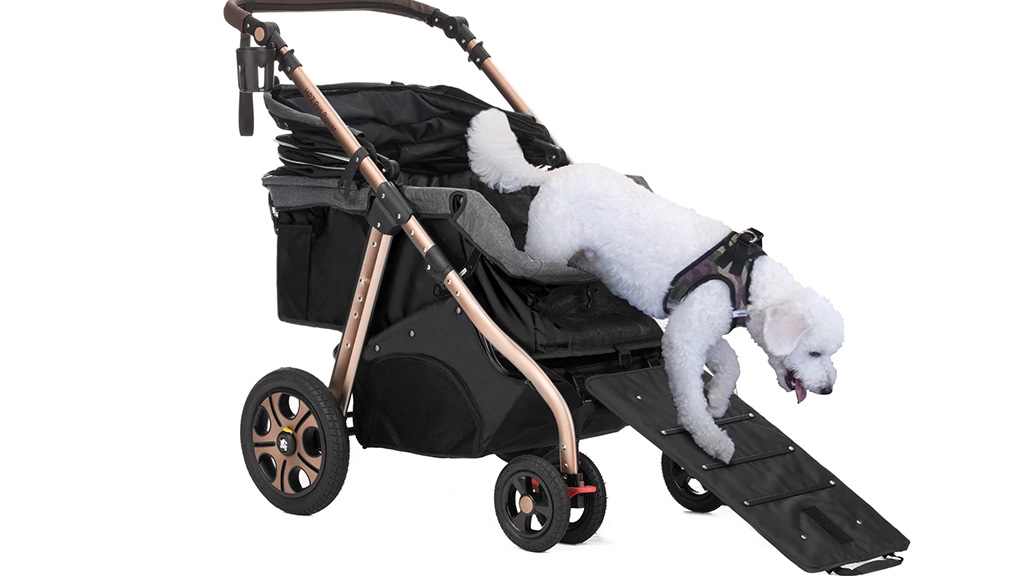 There is no shortage of strollers for toy dogs, but those for larger breeds can be harder to come by. The HPZ Pet Rover is the greatest dog stroller for big dogs in our opinion. Your dog, no matter its size, can ride comfortably in this extra-large stroller. The never-flat wheels never need to be inflated, and they provide a comfortable ride for your dog on any surface.
This stroller is larger and heavier than most others on the market since it is designed to accommodate bigger dogs. Despite its bulk, it can be folded up and moved around with no effort. Strollers for giant dogs are no exception to the rule that everything for huge dogs costs more than something for a tiny dog. While this stroller is more expensive than others we looked at, the convenience it provides for your large dog is well worth the cost.
Paws & Pals Double Dog Strollers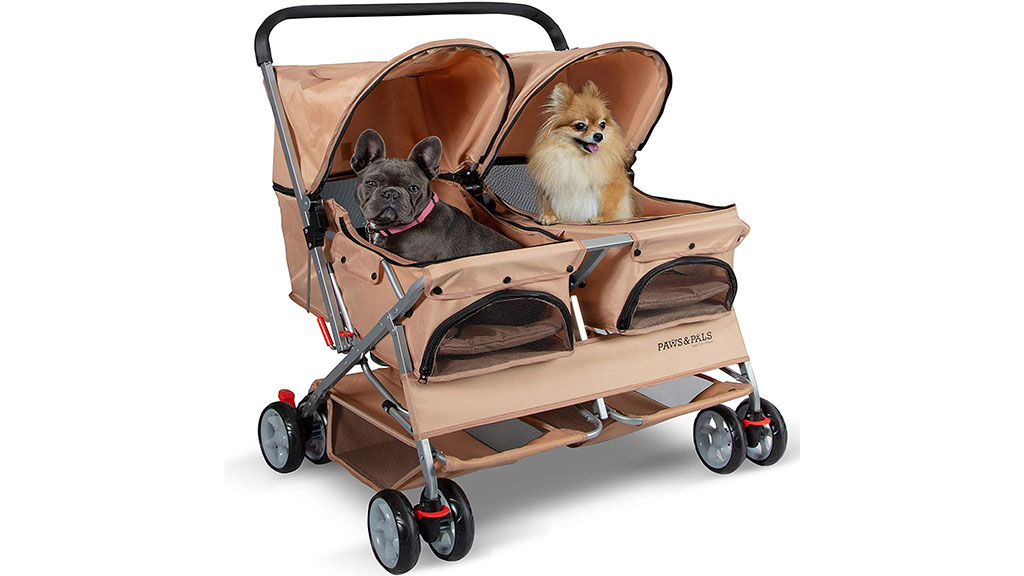 Do you wish to go for a walk with your two dogs, or maybe your dog and cat? The Paws & Pals Double Pet Stroller is our top selection for the finest dog stroller for two dogs (or other pets). This stroller has a combined weight capacity of 50 pounds, or approximately 25 pounds each basket. This stroller has plenty of room for two small to medium-sized pets. At least three canines may ride comfortably in this stroller, according to one reviewer. According to reviews, this stroller is reasonably priced. A lot of people have said they would pay extra money for how well this dog stroller is made.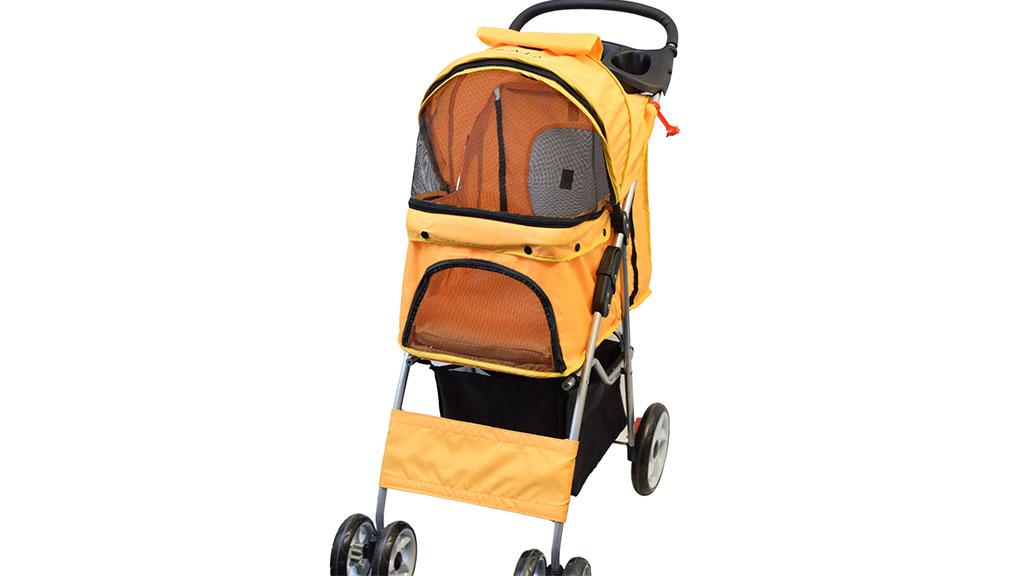 There are many low-priced dog strollers to choose from if you're on a tight budget but still want to give your pet the luxury of a stroller. Choose a stroller that meets your needs with just the essentials, such as a strong frame, padded seats, and adequate airflow. Know that less expensive strollers may not last as long as their more expensive counterparts, but that they can still give your dog a secure and pleasant method to enjoy outdoor adventures with the right amount of care and upkeep. Lightweight, folding models that are simple to travel and store are wonderful options for inexpensive dog strollers, as are strollers with smaller wheels that are suited for smooth, paved terrain