What could be more pleasant than travelling and exploring new locations? You can absolutely go everywhere with your horse! If you enjoy riding horses, the thought of going on an adventure with your horse is appealing. Or maybe you're planning a trip with your horse in mind for a competition or just to go riding in a new area. Whatever the reason, one of the best ways to travel with your horse, is to use a horse trailer with living quarters. Horse trailers are regularly owned by many horse lovers. With this freedom, you can move your horse whenever and wherever you need to.
But with so many different brands and designs to select from, finding the best horse trailer may be difficult. It's important to consider your options because some patterns may be more appropriate for your needs than others.
So that's why here we have listed some top-rated Horse Trailers With Living Quarters for you. So keep reading and find the best one for yourself.
10 TOP HORSE TRAILER WITH LIVING QUARTERS
1.   Sundowner Trailers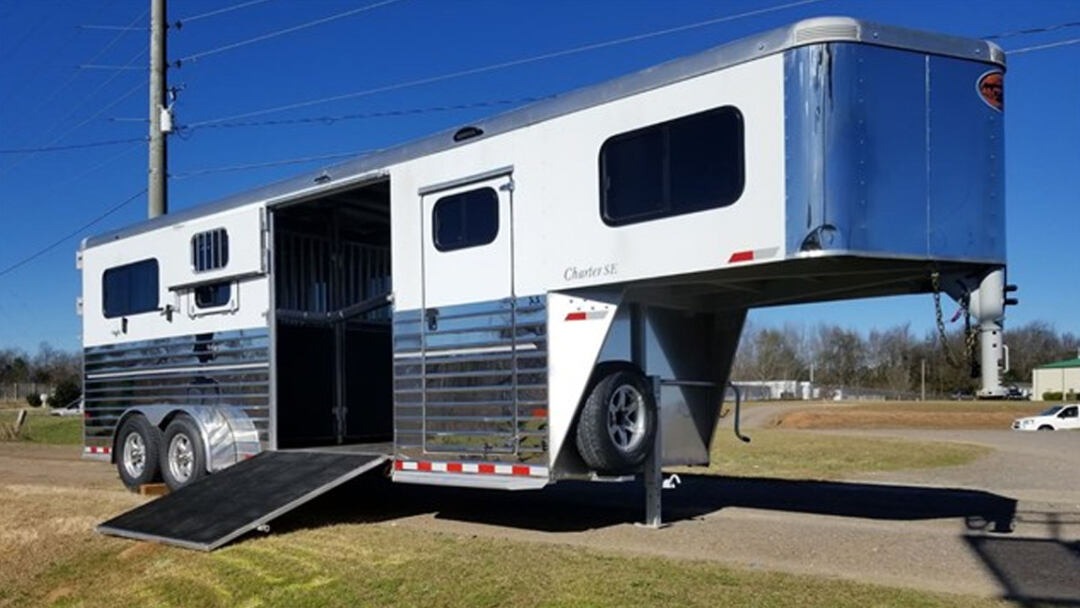 Sundowner is a pioneer in the horse trailer business and makes superior bumper pulls and goosenecks. They even provide long-lasting, unique designs to match your individual preferences. Each of them can have opulent human living quarters while still being constructed with the comfort of equines in mind.
Your horse will feel secure and content thanks to features like sturdy aluminum construction, padded partitions, floor mats, and adequate airflow, among others. Because of its excellent designs, Sundowner is even the official horse trailer of the American Quarter Horse Association.
2.   Horse Trailer With Hay Pod By Equine Motorcoach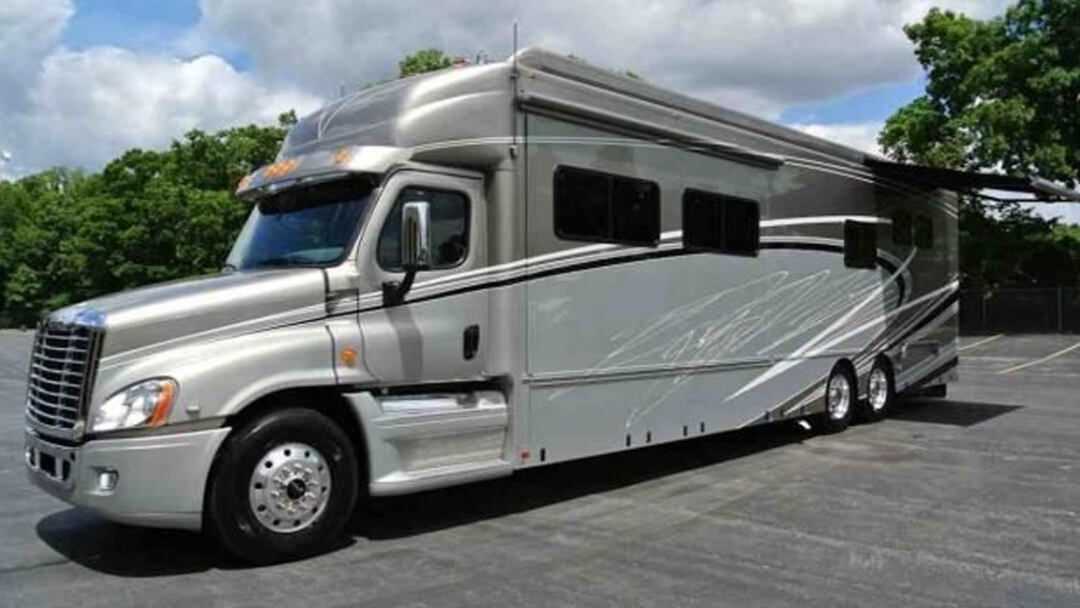 If you want to transport up to six horses, you may need the Equine Motorcoach Horse Trailer. The combined towing capability of this massive RV and horse trailer is 40,000 pounds. In a stylish mobile stable with options for two to six stalls, ample gear storage, and straight load or tilt loading, horses can ride in comfort. There is also a hay pod outside and a tonne of storage.
You can pick from a selection of upgrades in the first-class living quarters. A few of the amenities include awnings, maple cabinets, a skylight above the bathroom, heated flooring, additional slide-outs, a 43″ Smart LED television, a DVD player, a radio, and speakers.
3.   Cimarron Trailers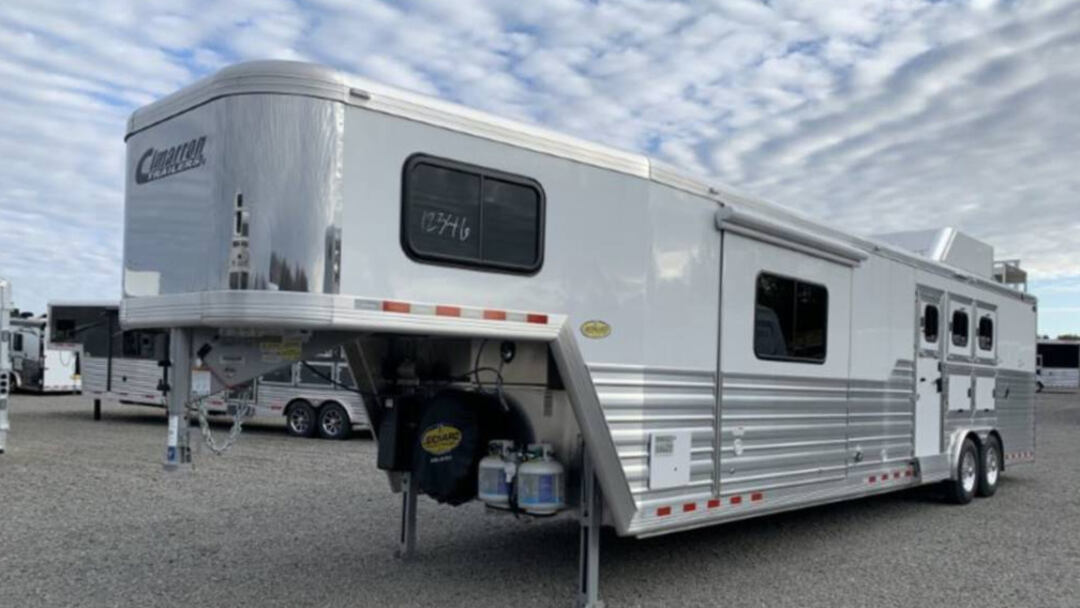 One of the many horse trailer producers that people highly esteem is The Cimarron Trailer Company. "Reputation, innovation, and continual progress" is the company's core motto. Positive reviews of Cimarron Trailers have been made by clients and the general public. Because of their sturdy build, they have a good reputation.
Aluminum-built horse trailers with a unique design. It reduces the total weight of the horse trailer. It is considerably more crucial when it is connected to a living area. Horse trailers are made of aluminum to prevent them from becoming too light or being put under a lot of stress over time. These horse trailers combine durability, safety, and aesthetic appeal. Customers also have a wide range of choices when it comes to Cimarron trailers.
4.   Featherlite trailers- Country Estate Villa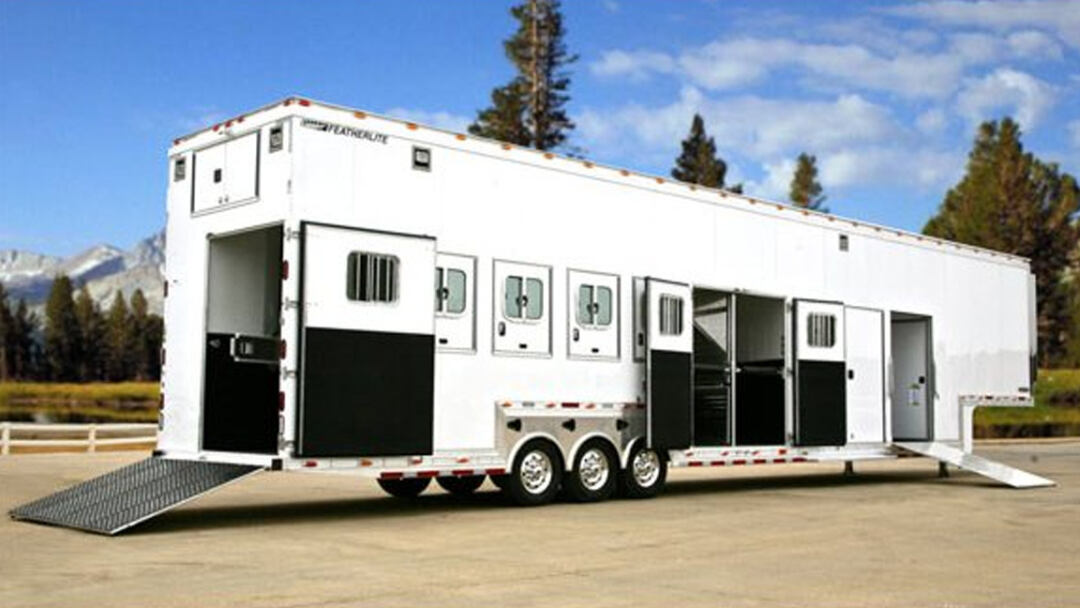 The 53′ style Country Estate Villa provides the highest caliber lodging. The living area includes an electric fireplace, solid maple cabinets, a gas stove, hardwood floors, a 32-inch flat-screen television, XM Satellite Radio, and other upscale features. This trailer not only has excellent functionality but also allows you to customize the look and feel.
The outdoor entertainment area also includes a second TV, beverage refrigerator drawers, a hot water spigot for coffee and tea, and an 18-foot awning for weather protection. The inside living area of this trailer is a massive 33′ long and features four slide-outs for added space. Your horses also get to travel in comfort.
5.   Lakota Horse Trailers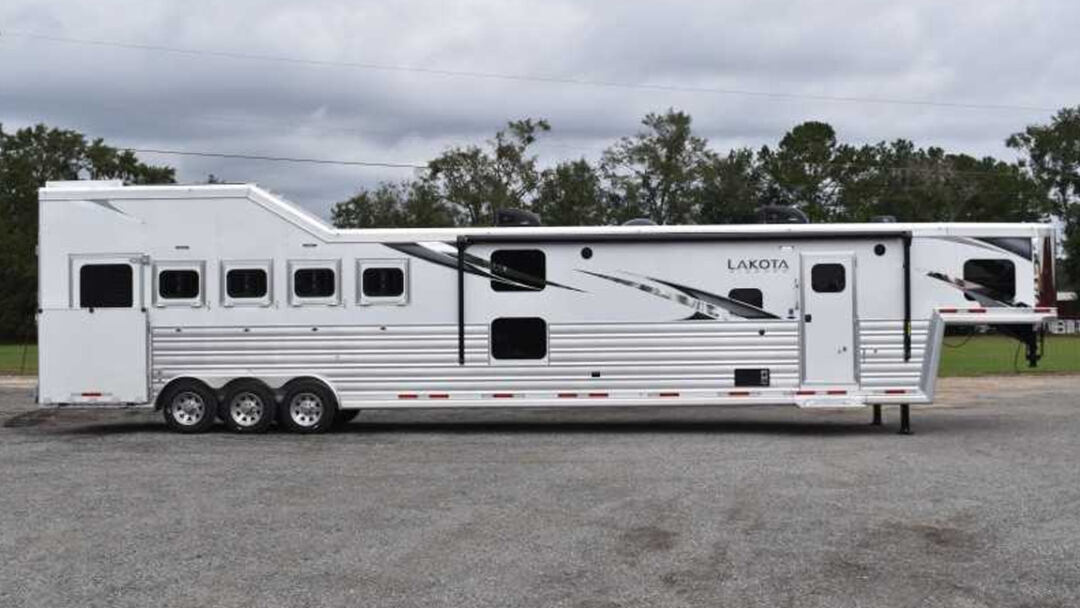 Many have claimed and even declared that Lakota is the best horse trailer in America. This company is a classic and has been around for more than 200 years. If you're interested, you can go to the Lakota website. Furthermore, you could really take a 3D virtual tour of one of their horse trailers made entirely of aluminum.
All trailer fabrication and manufacture are done in a single facility. Any horse owner's specific needs can be met by altering them. The company provides excellent administrative services. Horse trailers with living quarters can be anything from 7 to 19 feet tall.
6.   Platinum Coach Outlaw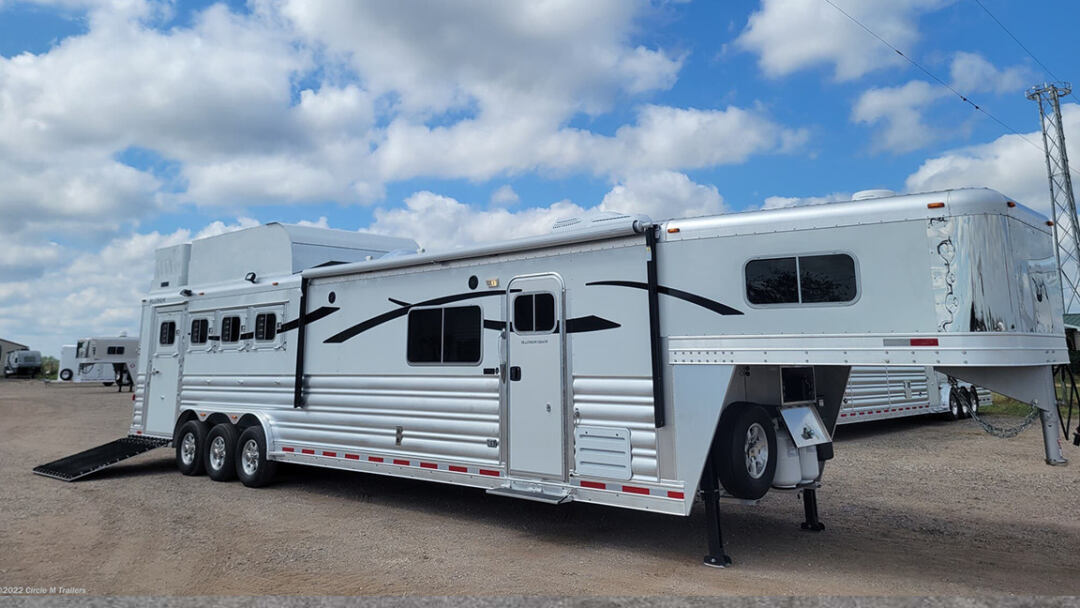 If you're seeking a cost-effective solution with cozy and useful amenities, the Platinum Coach Outlaw trailer is a great option for you. It boasts incredible features, including a sleeping sofa and an HDTV in the living area, in addition to having room for up to five horses.
There is also a spacious tack room with distinct side windows for every one of your horses. This economical option that satisfies your needs cannot be matched.
7.   Kingstar Trailers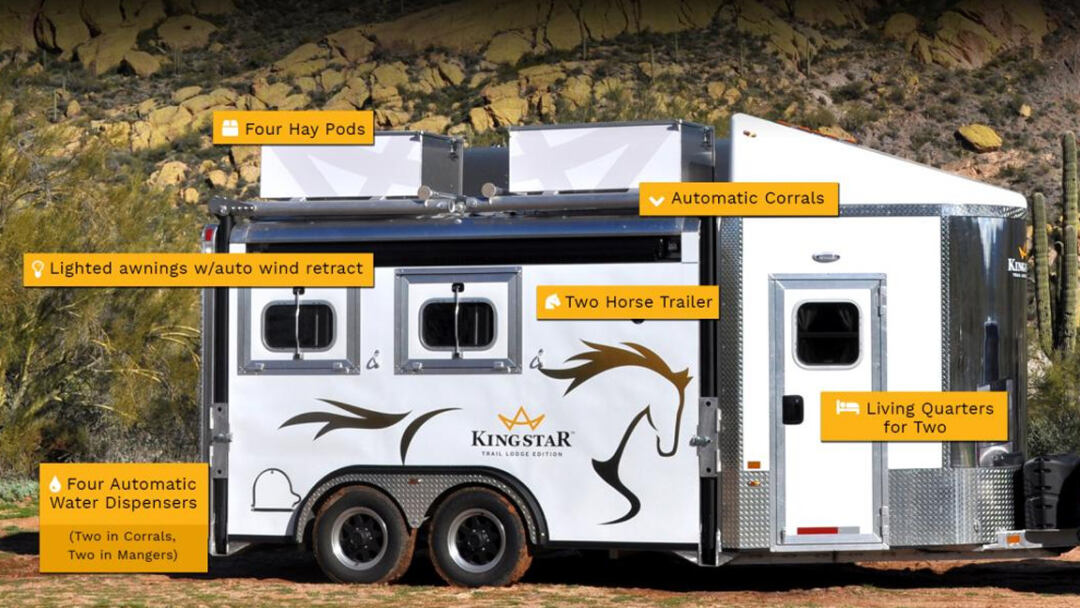 The Kingstar Company was founded in the year 2018. The founders of the business are two siblings from Michigan. In essence, they made the changes to the horse trailer with the goal of concentrating on the needs of both the horses and the horse owner. There are several innovative layout elements to be seen, such as efficient corral and roughage growth. Innovative programming was used to update equine irrigation systems. Additionally, these horse trailers have hydraulic frameworks that have been adequately updated and improved.
Kingstar trailers come in two- or three-horse gooseneck and bumper-pulled variations. You can order completely customized interior designs and all the necessities for your horses. There are USB connectors, LED lights, cap racks, and mirrors available for specific requirements.
8.   Adam Trailers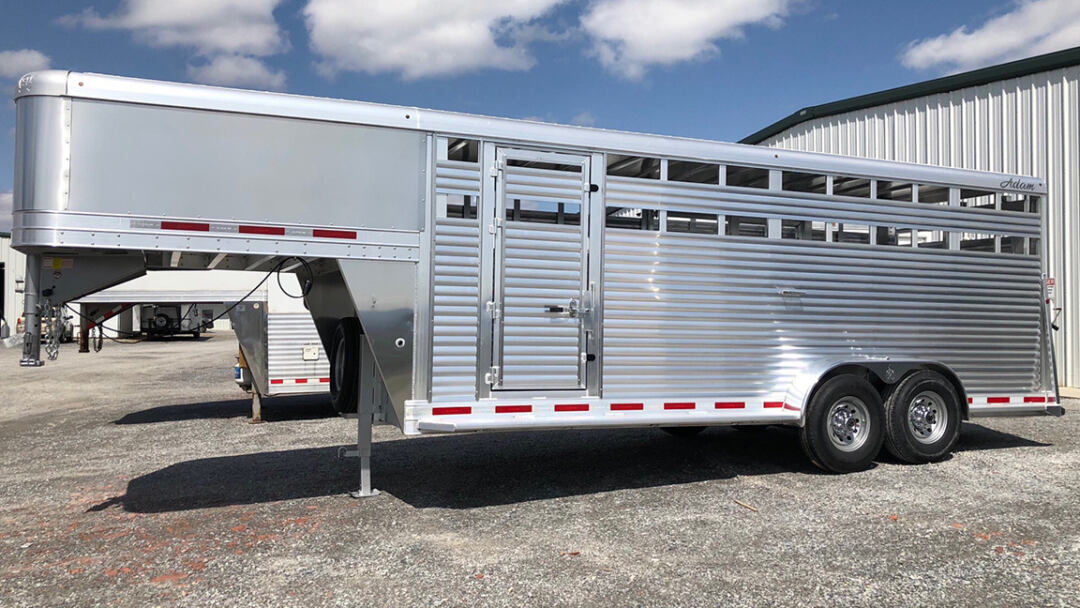 The business Adam Trailers is considered the industry's top producer of steel and aluminum horse trailers. They've been running for forty years. They are well known for constantly delivering top-notch service and have their corporate offices in Southwest Virginia. They manufacture utility trailers, horse trailers, car transporters, and other trailers.
Adam makes numerous different styles and configurations of horse trailers. One to twelve horses can be moved using these trailers. They specialize in gooseneck or bumper pull horse trailers. The alternatives available to customers include horse trailers with living quarters, gear storage, changing areas, etc.
9.   Merhow Trailers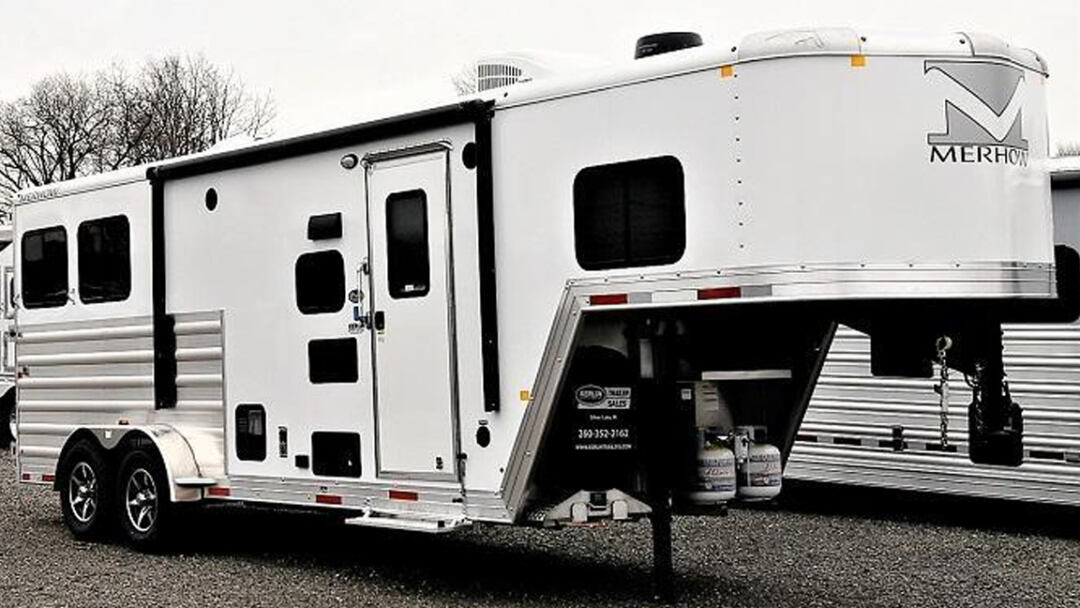 The headquarters of Merhow Trailers are in Michigan. This brand has been around for more than 60 years and has a solid reputation. In the past 60 years, the company has built a solid reputation in the market for horse trailers.
The company only manufactures aluminum-framed horse trailers. Further, you can receive offers, warranties, and excellent customer service if any problems arise with the horse trailers. Horse owners have two grades of horse trailers from Merhow to select from. These choices are Next Generation and Bronco.
10.   Hawk Trailers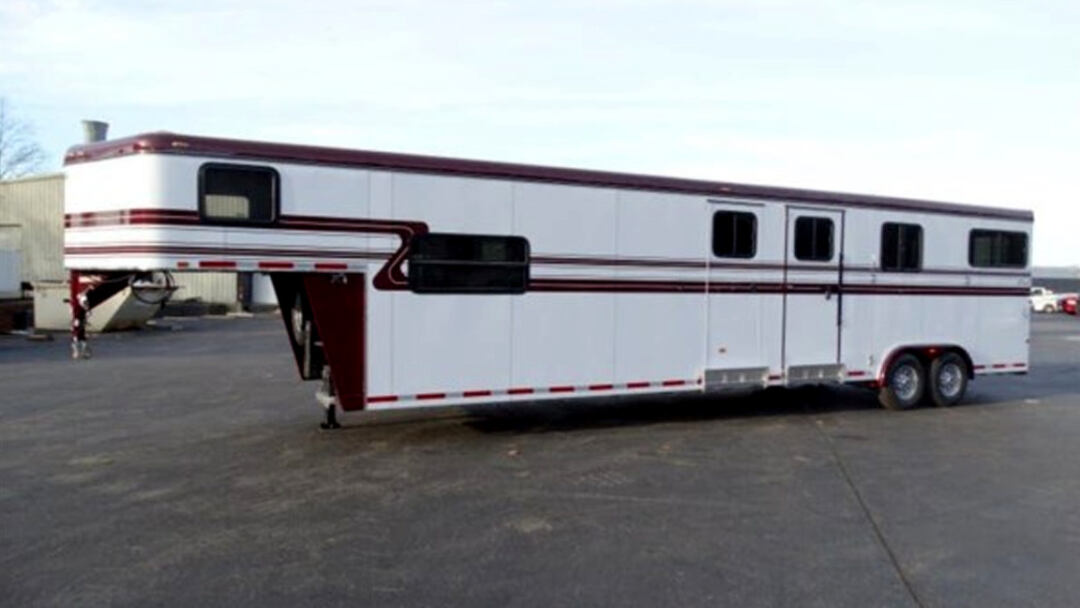 Making the best possible horse trailers is Hawk's primary goal. Each model is laboriously constructed with an emphasis on the design.
Because all of their trailers are built with galvanized steel frames, your horse will be safe and secure while being transported. Customization is their first focus because they want what is best for everyone. They can provide you with roof vents, kick wall pads, or even a place to live.
Final Thoughts
We have now reached the conclusion of this article. The appropriate horse trailer that fits their needs, budget, and expectations can be found by any equestrian or adventure enthusiast looking for the ultimate living quarters-equipped horse trailer to sate their wanderlust.
Finding everything, including a blend of everything you need, from luxury to simplicity and budget, can be made easier with the help of this list of the top 15 horse trailers with living quarters.