The pole that holds your bird feeder poles are an essential element of the birds feeding station in your garden. Therefore, you must invest in a pole that can withstand a harsh winter and support a number of different bird feeders. The tendency of cheap feeder poles to bend, tilt, or even break over time is one of the most troublesome problems associated with these poles.
We are well aware of the fact that there are plenty of other brands and models always available in the market but we still took a shot at it, our team at BetterPetsLife accepted the challenge and went out to test each and every brand individually, and with their immense experience and expertise in this field. Our team has come up with the most reliable advice about the top best bird feeder poles.
So, without further ado let's get to it. Based on BetterPetsLife's testing analysis, they have figured that the following five bird feeder poles made the cut.
Which are:
Squirrel Stopper Deluxe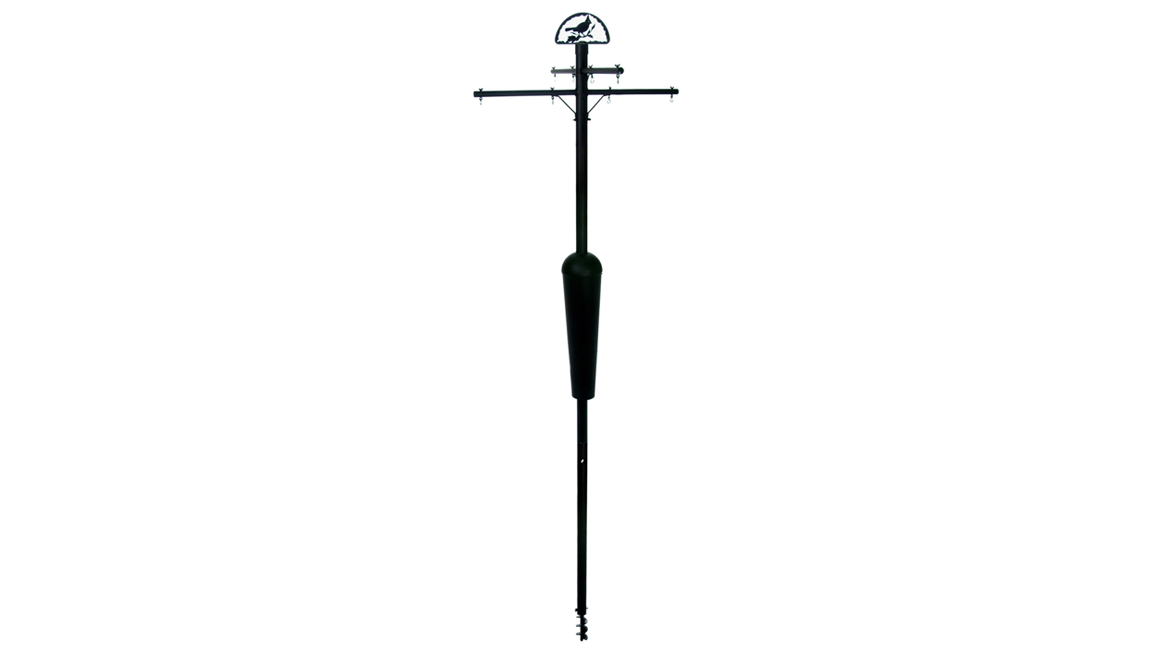 If you have big, heavy bird feeders and need a strong pole to hold them up, the Squirrel Stopper Deluxe is the best choice for squirrel proof bird feeder pole. This job is perfect for the Squirrel Stopper Deluxe.
For maximum strength, the center pole is made of solid steel and has the largest diameter in the industry at 2 inches. Simple to set up.
It has an iron twisting rod that makes it very easy to put together. The outside hooks are 19 inches from the center pole. This gives the birds more room to spread out while they eat, which is better for their health.
Also fits bigger feeders, like platform feeders that hang from the ceiling. It has a built-in squirrel baffle that is solid, round, and it can rotate around to keep squirrels from getting to the feeders.
You need the squirrel proof bird feeder pole if you like to watch birds in your backyard and want the strongest, most solid unit that will last and can hold a variety of feeder sizes and weights. You also need something other than a black color or finish.
Kettle Moraine Bird Feeder Pole Set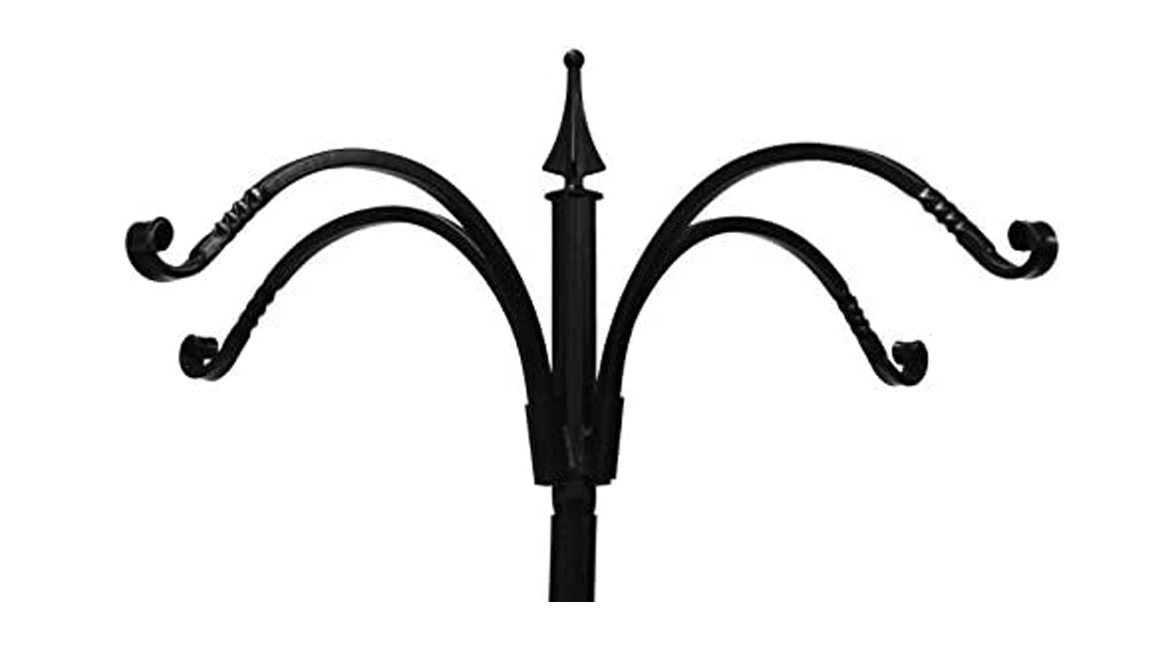 The Kettle Moraine Bird Feeder Pole impressed us because of how well it was packaged. The cardboard was thick, the name of the contents was clear, there was Styrofoam between the pieces, and the parts were made to last.
The center pole is made of steel and has a diameter of 1 inch. This is a great base for strength and stability. We thought the Kettle Moraine would be in our top five, but when we installed and tested it, it failed in a few obvious ways.
The base is set up with a ground auger, just like the Squirrel Stopper systems. The Squirrel Stoppers was much wider than this. At first, we thought that our ground was too hard, so we put that idea aside. Then, our team put up the Squirrel Stopper Sequoia, which was only a foot away and was easy to twist into the ground.
We couldn't recommend the Kettle Moraine as a stable structure if it wasn't fully set into the ground. We still think it's "good," but the squirrel proof bird feeder pole were better for this review. Also, this brand didn't have good customer service.
Squirrel Stopper Sequoia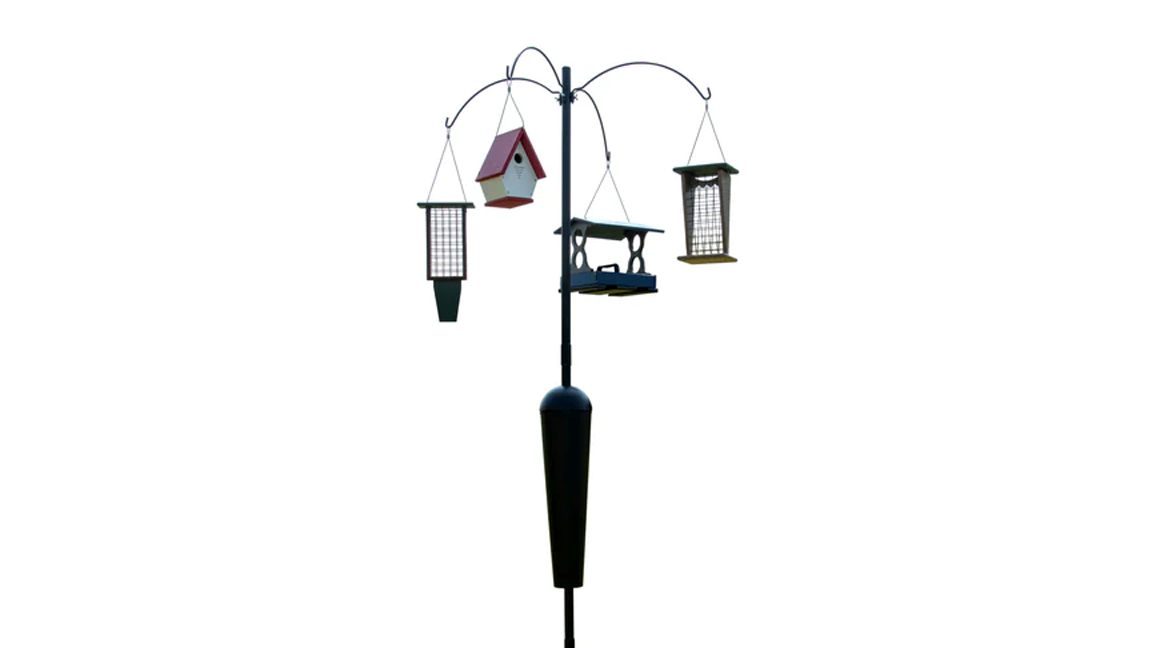 The Squirrel Stopper Sequoia is by far the best tree and it's surprisingly easy to set up the squirrel proof bird feeder pole. Just put the iron twisting rod that comes with it into the holes on top of the base unit and start twisting it into the ground. We were able to easily twist the whole 20′′.
The first 16′′ went in like butter. For the last 4′′, Our team had to take a lot of breaks which easily leans into the twisting, but we got the full 20′′ in the ground. That pole is firmly planted in the ground and is not moving. From there, the Sequoia just kept getting better. Solid steel poles and threaded joints on each section, including the auger, provide rock-solid stability to withstand the heaviest feeders.
A strong, high-quality squirrel proof bird feeder pole system at a great price. For the most durability, the pole sections are screwed into each other and made of solid steel. Even though you have to twist the auger into the ground, it is still easy to set up.
The iron rod was included to make setting up the auger easier. There are four shepherd's hooks to hang more bird feeders. The hooks are 19 inches from the center pole, which gives the birds more room to spread out and is better for their health. Also fits larger feeders, like platform feeders that hang from the ceiling.
Erva Tool Heavy Duty Bird Feeder Pole 
When the BetterPetsLife team opened the box of heavy duty bird feeder pole and looked at the system, they saw that the pole system was almost the same as the Kettle Moraine 3-Arm system, so they did not install it.
There is, however, a difference between the hooks on the Erva Tool system and those on the Kettle Moraine system. They are 22 inches away from the center pole, which makes it possible to hang bigger bird feeders and gives the birds more room to gather without bothering each other.
Since the Erva Tool doesn't have a squirrel stopper, we suggest getting a one of the Squirrel Stopper poles if squirrels tend to be an issue for you.
Here are the rest of the budget models. We did tests and looked at the results of BetterPetsLife's research. To make things clear, if you want a cheap model, The Feed Garden Deluxe is a great choice, heavy duty bird feeder pole according to our team.
Feed Garden Deluxe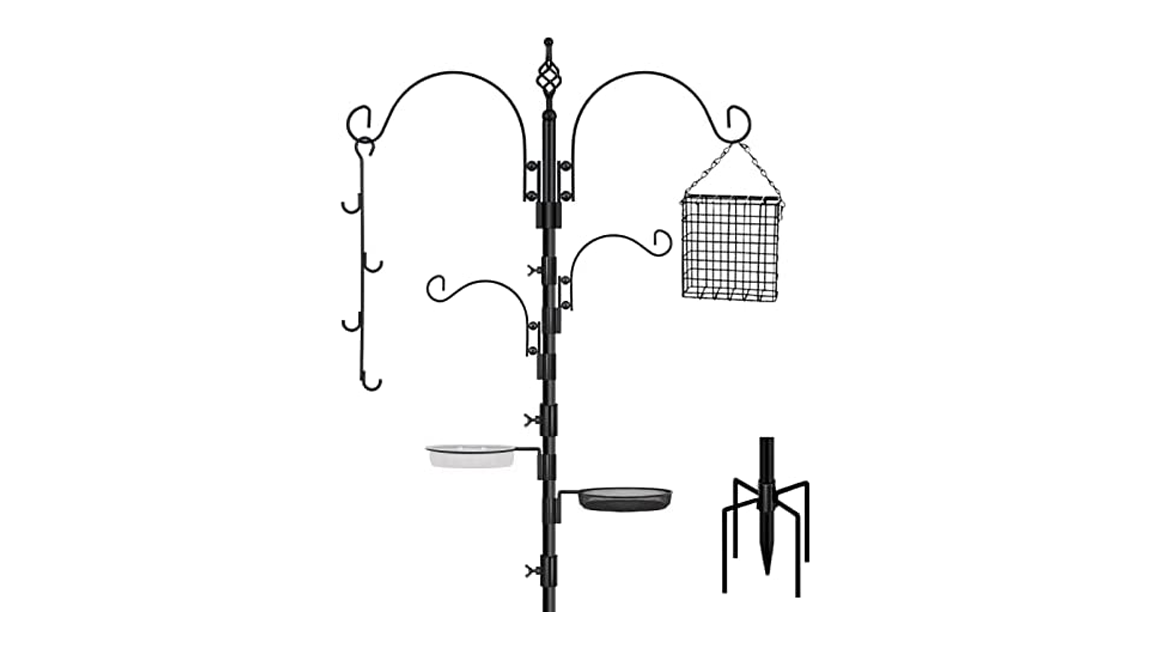 Not everyone can spend money on the best or wants to. This is especially important when you are just starting to feed birds. So, the Feed Garden Deluxe can help. Using four shepherd's hooks, the Feed Garden Deluxe sports an iron design for example like hanging bird feeder pole. It stands on a base that looks like a fork. All of these are things we thought a cheap model would have.
The most impressive thing about the Feed Garden Deluxe is that the top two hook ends are 10 inches from the center pole. This lets you hang bigger, bulkier bird feeders and gives birds more room to gather.
The center pole is a standard 13/16″, but it only has three pieces, which is good for stability. The pole pieces are put together so that they fit tightly. Considering how the fork was made, the strength was fine. The bird feeder pole Home Depot is for you if you're new to backyard birding and want to test the waters, if you don't have squirrel issues, and if you are on a budget.
Now let's examine what's important when buying a bird feeder pole in order to better understand how BetterPetsLife came up with the above recommendations.
Things To Keep in Mind While Buying Bird Feeder Pole
In this guide, we'll go into detail about some of the most important features, explain why they're important, and provide you with some advice along the way.
A bird feeder pole needs to be strong because multiple bird feeders filled with birdseed can get very heavy. Look for a strong, solid center pole with three or fewer pieces that, when put together, work as one unit and don't shake or wobble. It must be stable enough to hold different amounts of weight without leaning.
Whether you have one or four bird feeders hanging, they should all stand straight and strong. Stability comes from the bottom support and tall bird feeder pole in the middle.
Those who have a ground auger and a rod for twisting make it easier to twist the base pole into the ground. Just how deep? As an example, the Squirrel Stopper Sequoia is planted 20 inches deep in the ground.
Look for one that squirrels can't get into. They will do anything to get to your bird feeders and eat the food you put out for the birds. This not only wastes a lot of money on bird food, but it also scares the birds away. Many brands say they can't be eaten by squirrels. From what I've seen, the ones that keep squirrels out almost 100% of the time are built-in (not add-on baffles), big, smooth, and have some movement, so a squirrel can't use it as a lever to jump up to a feeder. If you don't have a squirrel problem, you will. And you'll be glad you have a squirrel proof bird feeder pole.
Higher-quality models take longer to set up because the base requires twisting an auger over 1.5 feet into the ground. Look for a model that has a "twisting rod," which makes the job a lot easier. Plus, you probably don't already have a metal rod that is the right size, strength, and length for the job. We certainly didn't!
Most cheap models are the same and don't take any time to set up they are usually like diy bird feeder pole. The base is made up of three to five forks that you can easily push into the ground by stepping on them. The center poles have also just been put in.
Most people can't just forget about the cost. Also, my research showed that there is a direct link between quality and price. On the low end, a bird feeder pole costs less than $50, and on the high end, it costs around $200.
If you're new to birding or on a tight budget, get the best cheap model and upgrade when you can. It's more cost-effective to buy the best feeder pole if you plan to keep feeding birds for a long time, have large or heavy feeders, or have squirrel problems. If you buy the cheap model, it won't last long, and you'll have to go shopping again for the best.
Conclusion
A variety of bird feeder pole systems are available on the market. There can be a lot to consider when it comes to choosing one. By testing different kinds of poles, BetterPetsLife saved you the hassle of deciding whether or not they are worth investing in. Our recommendation is to use three of the five systems. Which is The Squirrel Stopper Deluxe, The Squirrel Stopper Sequoia, and The Feed Garden Deluxe
One thing we are definitely sure of is that you can't go wrong installing a pole in your yard either way. You'll enjoy watching the birds flock to the food as well as watching them feed. The number of times you want to replace bird feeder poles depends on how many times you want to replace them in your life.